TriangleTube Product Line
Condensing Boilers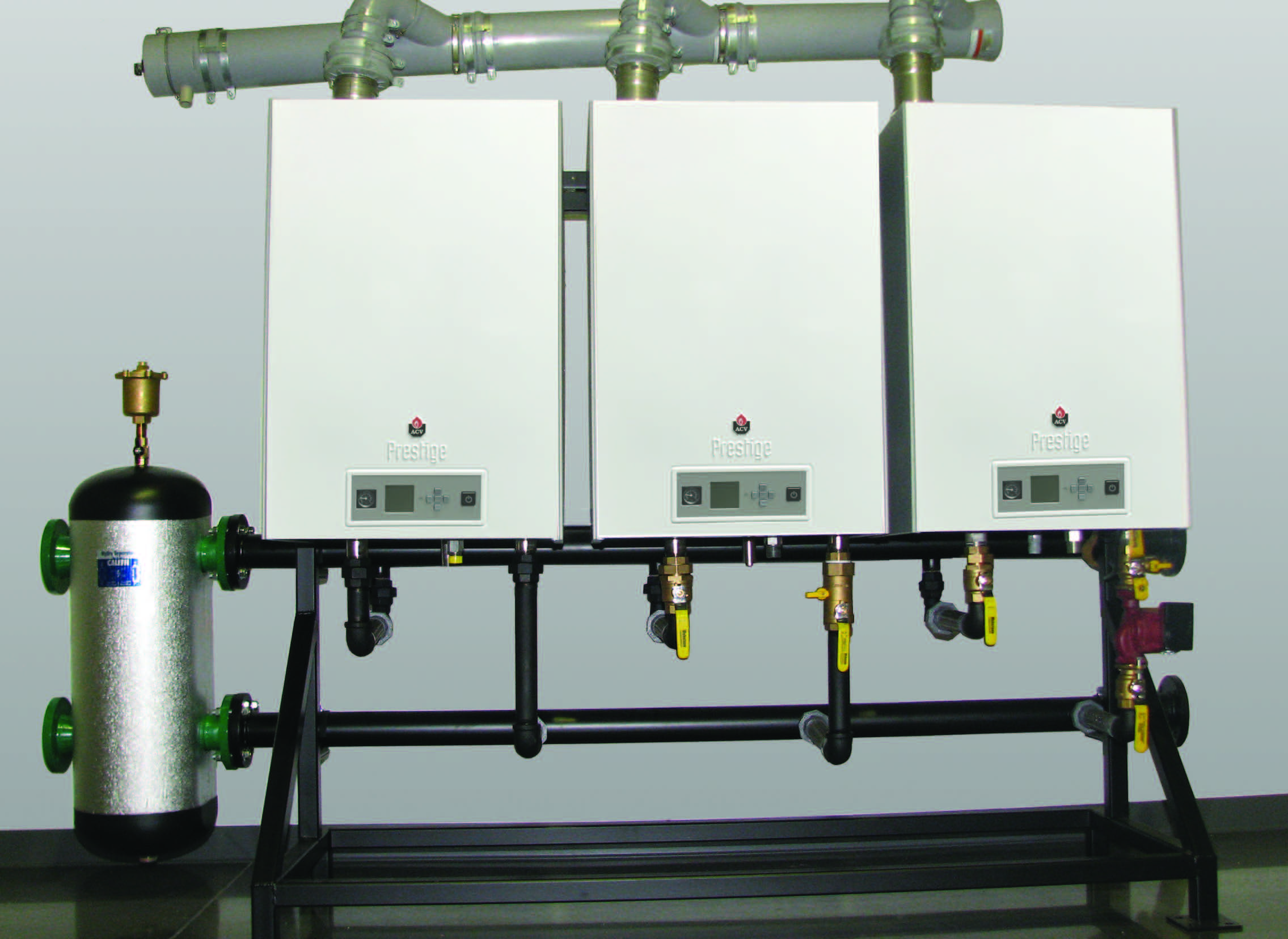 Prestige Cascade System
Up to 2 million BTU/h with the Efficiency and Reliability of the Prestige

The Prestige Cascade can combine 2 to 5 Prestige 399 boilers for outputs from 112 to 1995 MBH, or 2 Prestige 250 boilers for outputs from 65 to 490 MBH. The boilers' integrated Cascade Control minimizes setup time. With a maximum turndown ratio of 18 to 1, the Cascade provides ample output during peak demands, yet adjusts its output during lower demands to minimize boiler cycling and maximize efficiency.

The Common Vent for the Cascade Systems using Prestige 399 boilers allows either 2 or 3 boilers to be joined to a common vent, reducing venting space, installation time, and cost. The polypropylene venting meets ULC S636 requirements and is designed to optimize the system performance. A single wall penetration would be required for either the 2 or 3 boiler models. Several termination and flashing options are available.

View Brochure
---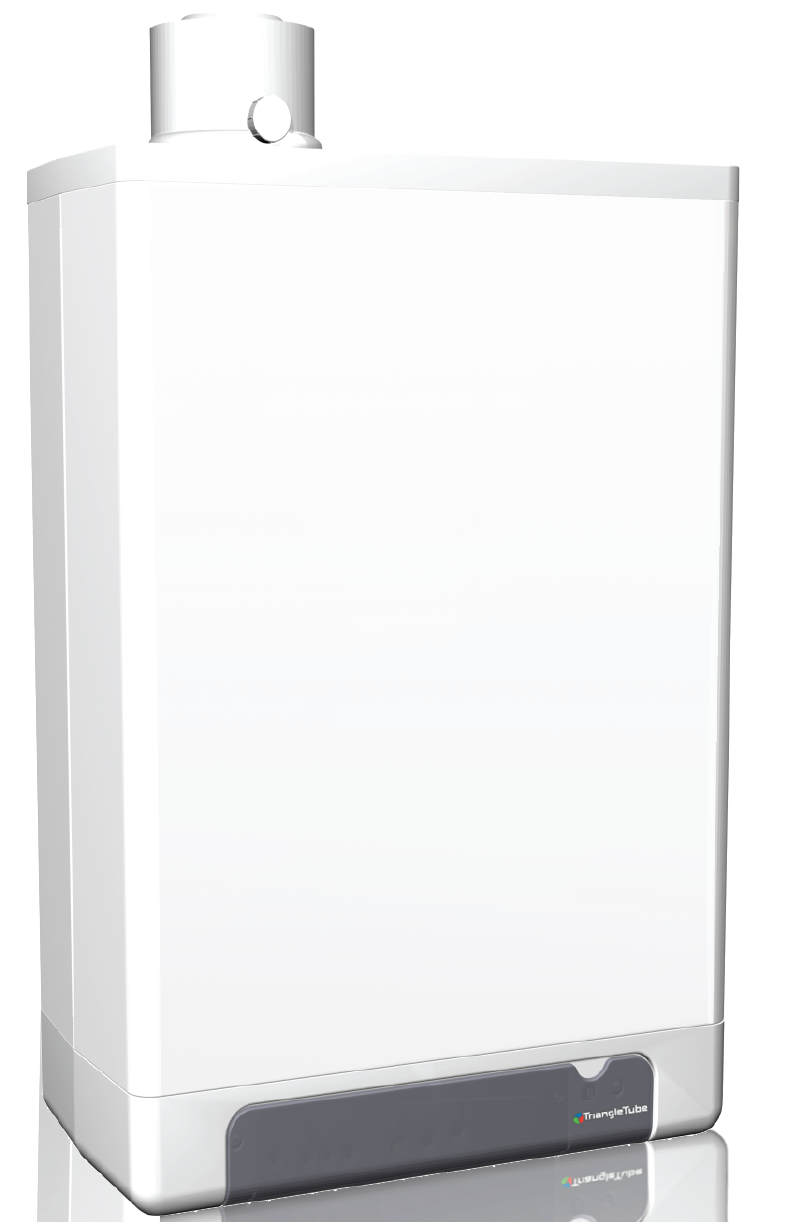 Challenger Combination Boiler
High Efficiency Space Heating and Domestic Hot Water in a Compact Package

The Challenger Combination Boiler features a unique "Two in One" heat exchanger that provides both space heating and domestic hot water. The Challenger Combination Boiler is designed to fit the needs of today's energy efficient homes with inputs of 85, 105, and 125 MBH. The Challenger is not only energy efficient with an AFUE of 94%, but space efficient as well.

As a combination boiler, the Challenger eliminates the need for a separate domestic hot water tank. The unique heat exchanger in the Challenger heats domestic hot water directly, allowing the boiler to condense in the DHW mode and eliminating a separate heat exchanger and three-way valve.

View Brochure
---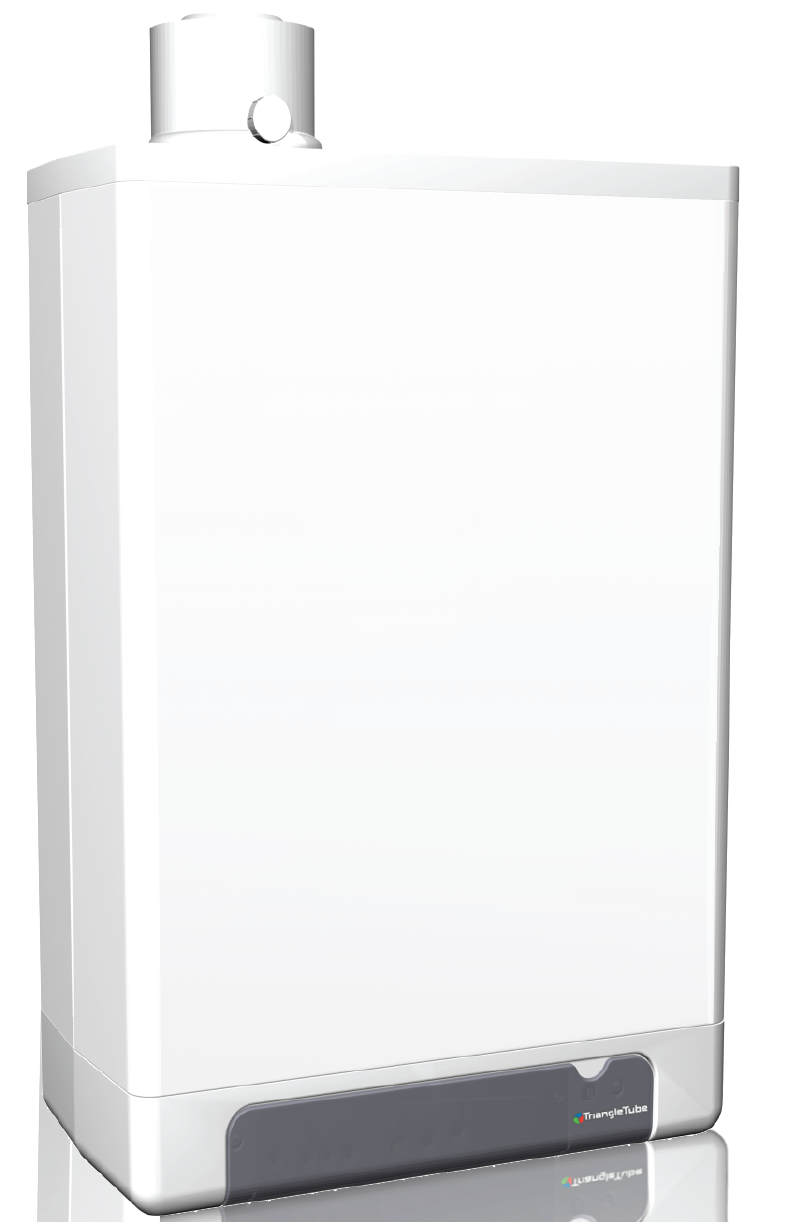 Challenger Solo Boiler
High Efficiency Space Heating in a Compact Package

The Challenger Solo Boiler features a unique insert cast heat exchanger that provides the light weight and efficient heat transfer of aluminum with the durability of copper waterways. The Challenger Solo Boiler is designed to fit the needs of today's energy efficient homes with inputs of 85, 105, 125, and 145 MBH. The Challenger is not only energy efficient with an AFUE of up to 94%, but space efficient as well.

The Challenger Solo boiler can provide both heat and hot water when paired with an indirect water heater such as the Smart product line.

View Brochure
---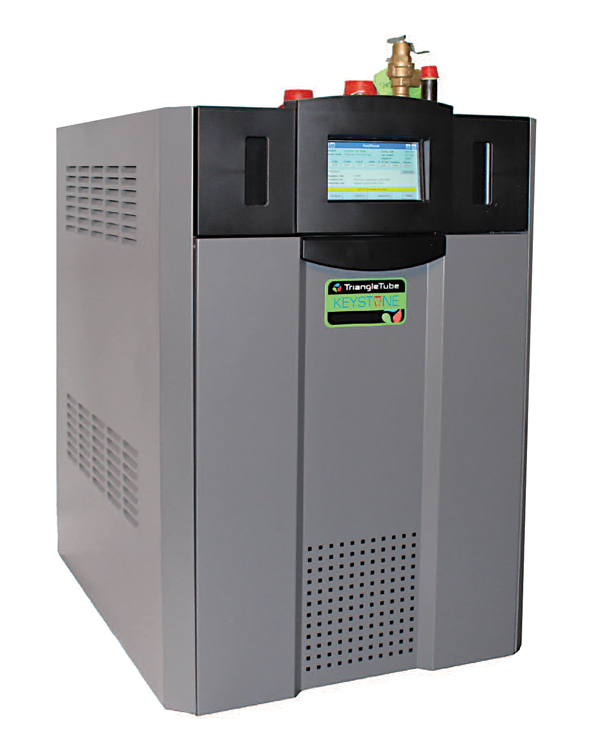 Keystone Condensing Boiler
High Efficiency Condensing Boilers from 399 to 850 MBH

Keystone Condensing Boilers provide powerful solutions for large residential and light commercial applications with 5 models with inputs from 399 to 850 MBH. These products feature a stainless steel heat exchanger with a thermal efficiency between 95 and 97%. Their compact design minimizes floor space while the cabinet provides easy access to all components. The large user friendly control interface makes set-up easy. The advanced control modulates the boiler with a 5 to 1 turndown ratio. Up to 8 boilers can be joined in a cascade while the control features parallel modulation and boiler rotation to maximize efficiency and service life.

Keystone Condensing Boilers from 500 to 850 MBH are CSD-1 compliant as a standard feature. This saves both cost and installation time.

View Brochure
---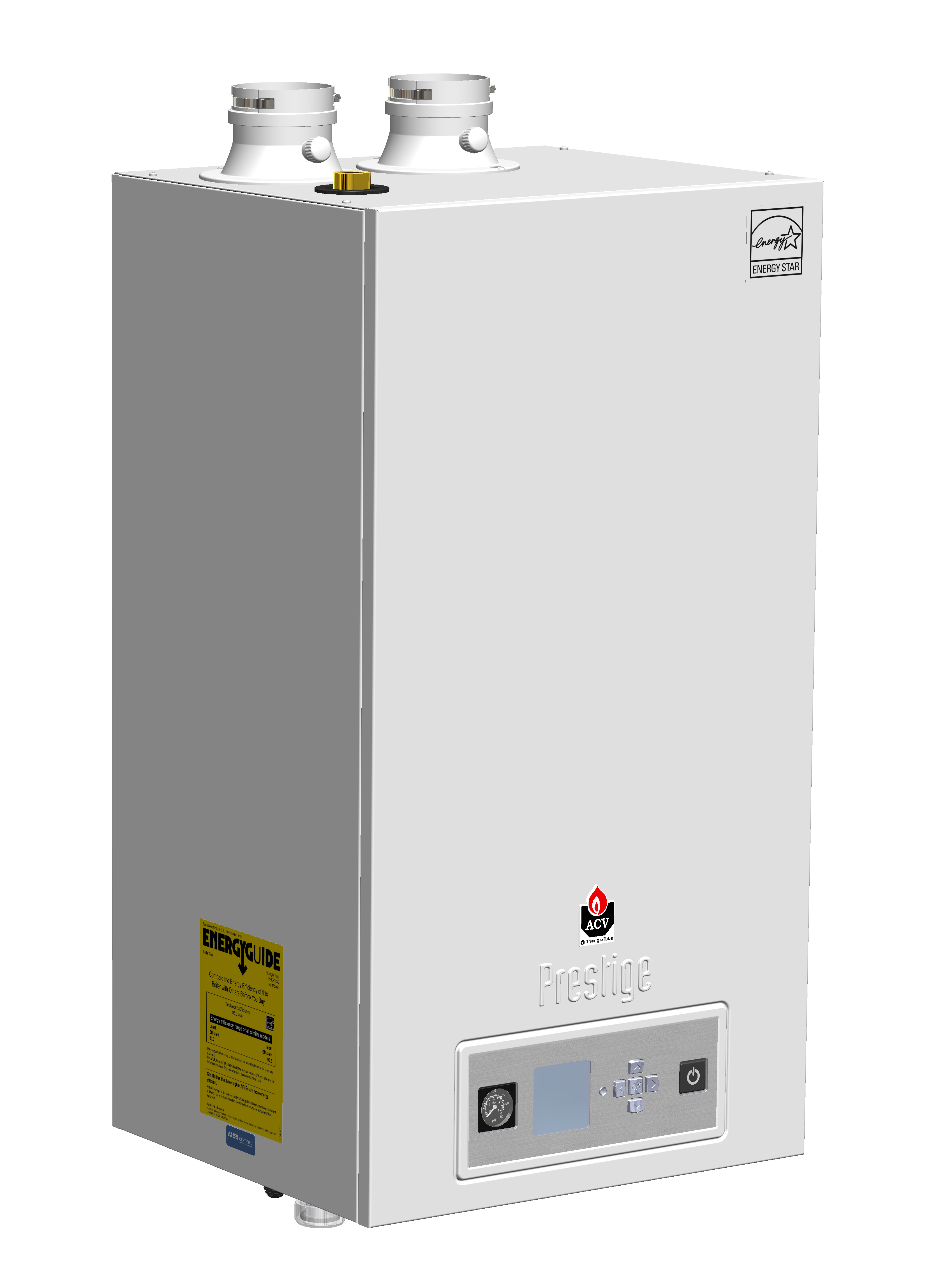 Prestige ACVMax Solo Series
High Efficiency Stainless Steel Wall Mounted Gas Boilers

The flagship line of premium condensing firetube gas boilers has been updated, adding 2 new models (155 and 299), and replacing the 60 with an 80. The Prestige boiler continues to feature the uniquely designed stainless steel heat exchanger and boasts 95% efficiency across the entire range. The Prestige has the capability to modulate with a turndown ratio of up to 5.5:1. This modulation means the boiler will alter its firing rate to meet the current demand, causing less cyclic behavior and resulting in lower operating costs. The improved ACVMax Control makes configuration quick and easy with setup in 60 seconds or less for standard installations. For unique installations, the 4 circulator outputs are fully configurable for endless customization. The upgraded ACVMax is able to simultaneously heat dual temperature heating systems with a built-in mixing valve control. The legacy TriMax features of 2 space heating calls with independent outdoor reset curves and integrated cascading of up to 6 boilers are still included with the ACVMax.

Combined with a Smart Indirect Fired Water Heater, the Prestige ACVMax provides cost-effective, reliable heat and an abundant supply of domestic hot water. The Prestige can be vented directly out of a sidewall with PVC pipe, requires minimal installation space, operates quietly and features an attractive jacket with a digital control panel. The Prestige ACVMax is equipped with a stainless steel premix burner and can be run on natural gas or propane for maximum installation flexibility.

View Brochure
---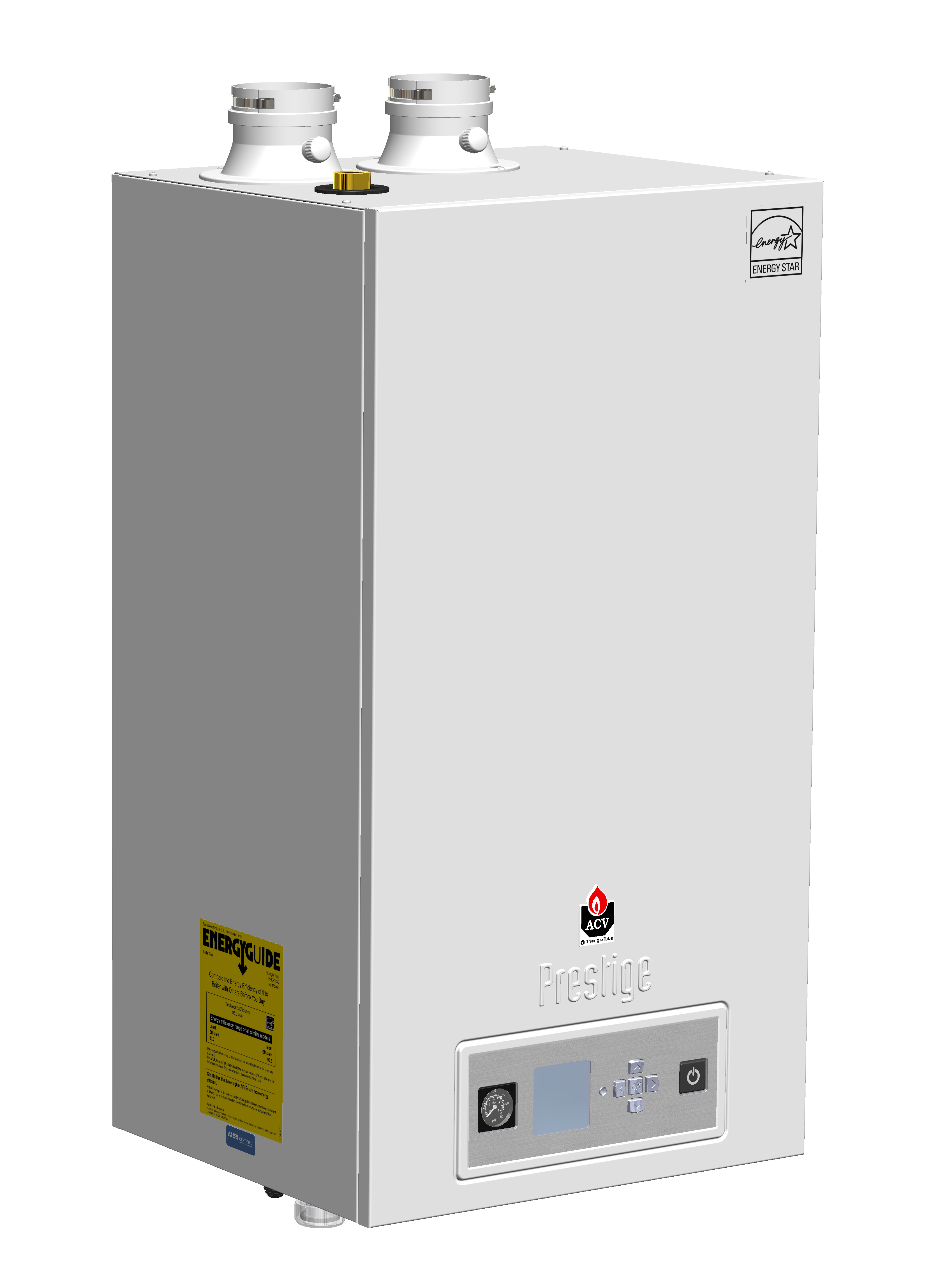 Prestige ACVMAX Excellence
The Prestige Excellence Series combines a High Efficiency Condensing Stainless Steel Wall Mounted Gas Boiler with a built-in "Tank-in-Tank" Indirect Fired Water Heater. In addition to the reliability and economy of a 110 Series Stainless Steel Condensing Boiler the Prestige Excellence Model's 14 gallon in-cabinet Indirect Fired Water Heater is capable of producing 180 gph of domestic hot water. It's a winning combination.

View Brochure
---
Heat Exchangers
Triangle Tube has over 55 years of experience in Heat Exchangers. That's why we offer a Heat Exchanger for almost every application; heating, cooling, heat recovery and more. MAXI-FLOW Stainless Steel and Titanium products are designed specifically for use in swimming pools and spas. Brazed Plate products are for Hydronic applications and domestic hot water. Gasketed Plate & Frame products can be used in a variety of applications.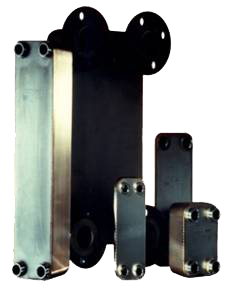 Brazed Plate
TTP brazed plate heat exchangers consist of as many as 150 pattern-embossed stainless steel plates. By brazing every second plate together and then turning them 180 degrees, they're able to create two separate flow channels in counter current. The unique design creates a better turbulence and an outstanding heat transfer – resulting in a highly efficient heat exchange.

View Brochure
---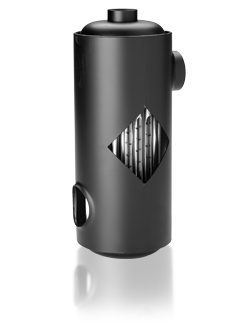 MAXI-FLO Series
Stainless Swimming Pool Heat Exchanger

No matter what size of the swimming pool, spa and hot tub the Maxi-Flo heat exchanger – available in 5 sizes ranging from 95,000 to 400,000 BTH/hr thermal outputs – is a perfect fit. Constructed of high quality corrosion resistant, precision welded stainless steel and equipped with a specially designed flow restrictor to assure maximum heat exchange, as well as minimum pressure loss, Maxi-Flo compact size stands in stark contrast to the significant energy savings it provides.

View Brochure
---
Indirect Fired Water Heaters
Energy efficiency. Long-term dependability. All the warmth life requires at the lowest operating costs. The Smart Series Stainless Steel Indirect Fired Water Heater intelligently uses the heat created by your home's boiler system to heat your water. The result is a reliable, abundant supply of domestic hot water delivered from a less-than-abundant amount of fuel – a notion as pleasing to your senses as your sensibility.
Comfort Water Heater
The Comfort Stainless Steel Indirect Fired Water Heater provides plentiful, affordable hot water.

The Stainless Steel Indirect Fired Water Heater is heated by the hot water from your boiler. As your home is being heated, your domestic hot water can also be heated at the same time, thereby, consuming less fuel and conserving energy. Combine this with a recovery rate that is up to three times faster than conventional gas or electric water heaters, and The COMFORT Series Indirect Fired Water Heater heats more hot water with less fuel for the energy conscious consumer.

View Brochure
---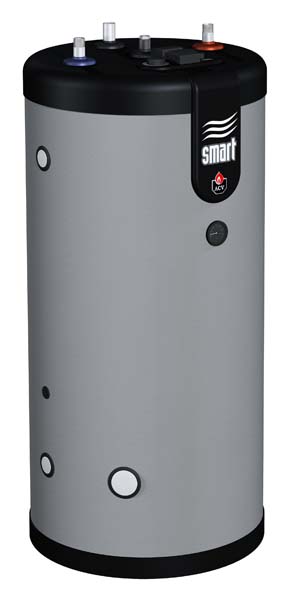 Smart Series
The Smart Choice in Indirect Fired Water Heaters

STAINLESS STEEL

The decision to use stainless steel for the manufacture of the "Tank in Tank" was made in the 60's. It was chosen for its well established reliability and advantages over other materials, namely: Stainless steel is stable at elevated temperatures above 180ºF, which is not the case for tanks manufactured from mild steel protected by a glass lined coating. It is for this reason that some manufacturers include a clause in their guarantee limiting the DHW storage temperatures to 140°F or even 130°F. Stainless steel, as its name suggests, is resistant to corrosion. The protective coatings in an enameled tank can be damaged by a shock during transportation, unloading or maneuvering it into position. This is not the case with stainless steel. Last, but not least, a stainless steel tank does not need a sacrificial anode. This is a major advantage versus conventional water heaters. Stainless steel is also universally recognized for its hygienic properties and is frequently used in the manufacture of items for the food industry and for surgical instruments. There is little chance of its use being questioned on the basis of it being a health hazard. Conversely, protective coatings, i.e. enameling cannot be examined everyday and their failure could lead to unhealthy consequences.

TANK-IN-TANK

There are two major types of water heaters, those with coils and the twin walled tank. The water heater which we manufacture, the "Tank-in-Tank", doesn't fall within either of these categories. The difference between our water heaters and those with coils is clear since in the former the primary fluid heats the domestic hot water from the outside while the other heats it from the inside out. On the other hand the twin walled water heaters have an area near the bottom which is not heated and the heat transfer surface is smaller than in the "Tank-in-Tank".

The most important characteristic of the "Tank-in-Tank" system is its capability for auto-descaling and its long life expectancy combined with the reduced requirement for regular maintenance.

View Brochure
---
Direct Fired Water Heater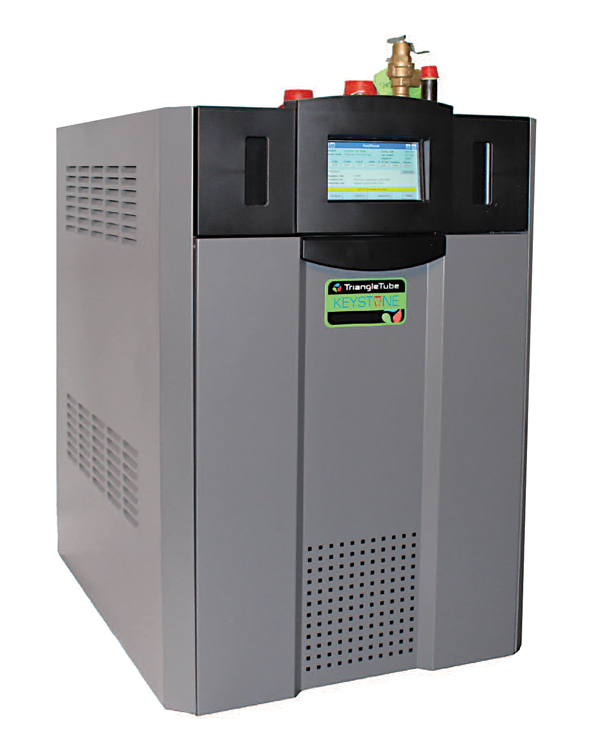 Keystone Condensing Water Heater
High Efficiency Condensing Water Heaters from 199 to 500 MBH

Keystone Condensing Water Heaters produce high volume hot water in with high energy efficiency. With 4 models with inputs from 199 to 500 MBH the Keystone Condensing Water Heaters are perfectly sized for large residential and light commercial applications. These products feature a stainless steel heat exchanger with a thermal efficiency between 95 and 97%. Their compact design minimizes floor space while the cabinet provides easy access to all components. The large user friendly control interface makes set-up easy. The advanced control modulates the water heater with a 5 to 1 turndown ratio. Up to 8 water heaters can be joined in a cascade while the control features parallel modulation and water heater rotation to maximize efficiency and service life.

View Brochure
---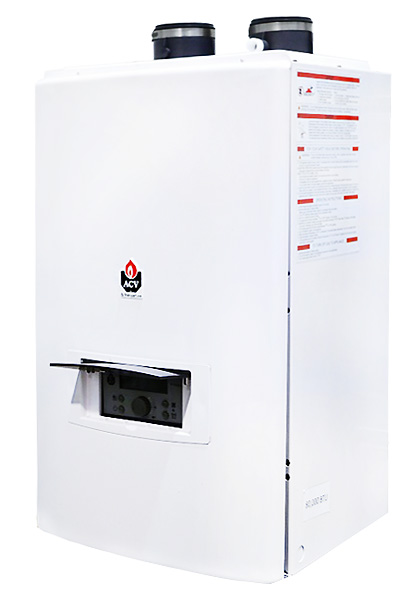 Marquis Condensing Gas Tankless Water Heater
Marquis Condensing Gas Tankless Water Heater

The Marquis Condensing Gas Tankless Water Heater offers endless hot water with a very high efficiency (.97 Energy Factor). It is available in natural gas and propane models. Its mixing valve maintains a stable water temperature during flow rate changes. The water flow control ensures stable water temperature during peak demands. The gas leak detector will shut down the unit in the event a gas leaked is detected.

View Brochure