3 Common Summer Plumbing Problems
For most folks here in Colorado, summer is the time to head outdoors and get the most out of the gorgeous weather while it lasts. However, you still have to be mindful of some of the plumbing issues that are particularly likely to arise during the warmer seasons, so that you can be prepared to dial your local plumbing crew.
Courtesy of your team at Blue Sky Plumbing, your source for top-notch HVAC and plumbing services throughout Golden, CO, and the rest of the Denver Metro Area, have a look at these common summer plumbing issues to be on the watch for.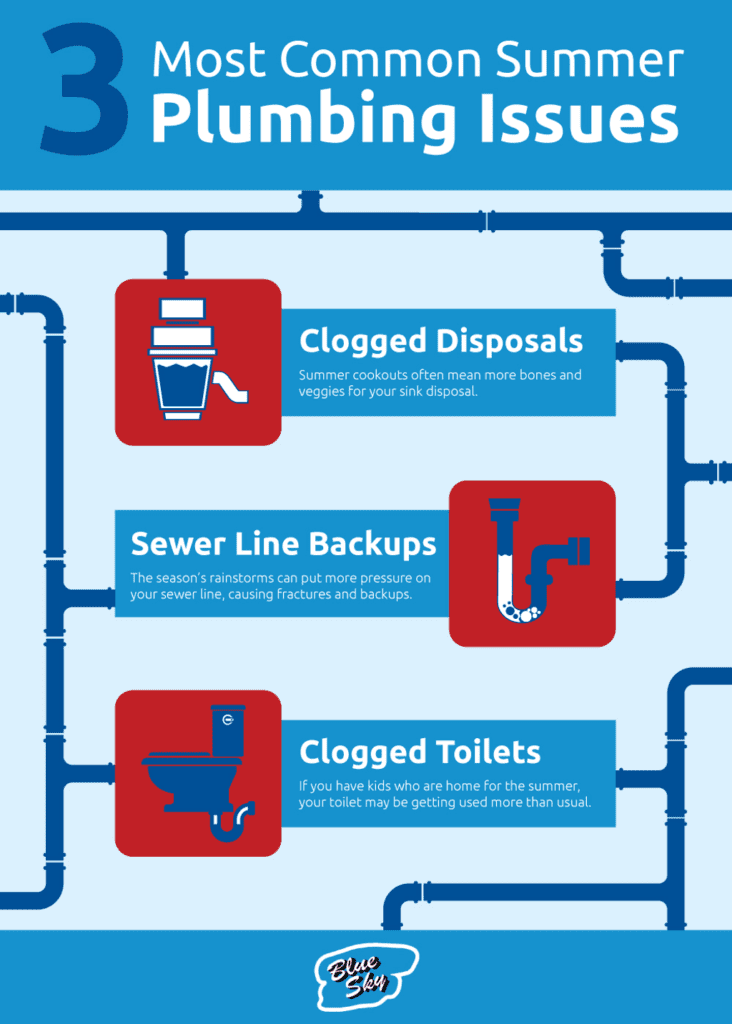 Clogged Disposal
If you're barbecuing and cooking up a storm this summer, you will need to be careful about how you dispose of leftover food. Although produce such as vegetables is great for your health, it is generally not so good for your sink's garbage disposal, especially if you're getting rid of hard fruits and veggies such as corn or watermelon. These kinds of produce can damage the blades of your disposal unit or lead to tough-to-manage clogs.
Used cooking oils can also be damaging to garbage disposal systems, so make sure to avoid pouring grease down the drain after you grill. It's also not a bad idea to run cold water through your disposal for a few seconds before and after each use to clear out any remaining bits of food.
Sewer Line Backups
The summer season often brings with it its share of rain showers and thunderstorms, especially in the afternoon as the air heats up. Excess rain can get into your sewer pipes through cracks and cause your sewer line to back up. You may also experience trouble if tree roots spread underground and make their way into the pipes.
If you see any signs of sewer line issues, such as toilet water backing up into your bathtub drain, make sure to give our team a call ASAP to schedule a sewer line repair in Evergreen, CO, or another nearby area.
Clogged Toilets
Typically, your home's toilets are also used more often in the summertime, thanks to kids being home during their break from school and using the bathroom during the day. Teach your kids to use a moderate amount of toilet paper and to flush the toilet only after they've actually used the bathroom.
If you and your family are looking for premier plumbing and HVAC services in your neck of the woods, don't hesitate to give our team at Blue Sky Plumbing a call today at (303) 625-6225.