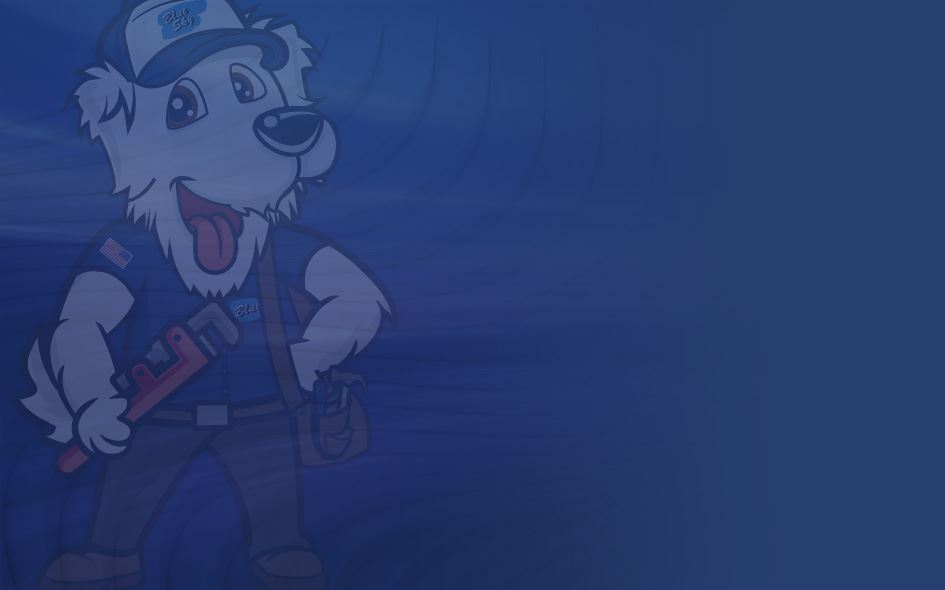 Our Team Can Help With Your Emergency Plumbing Repair. We are ready to help solve your problems!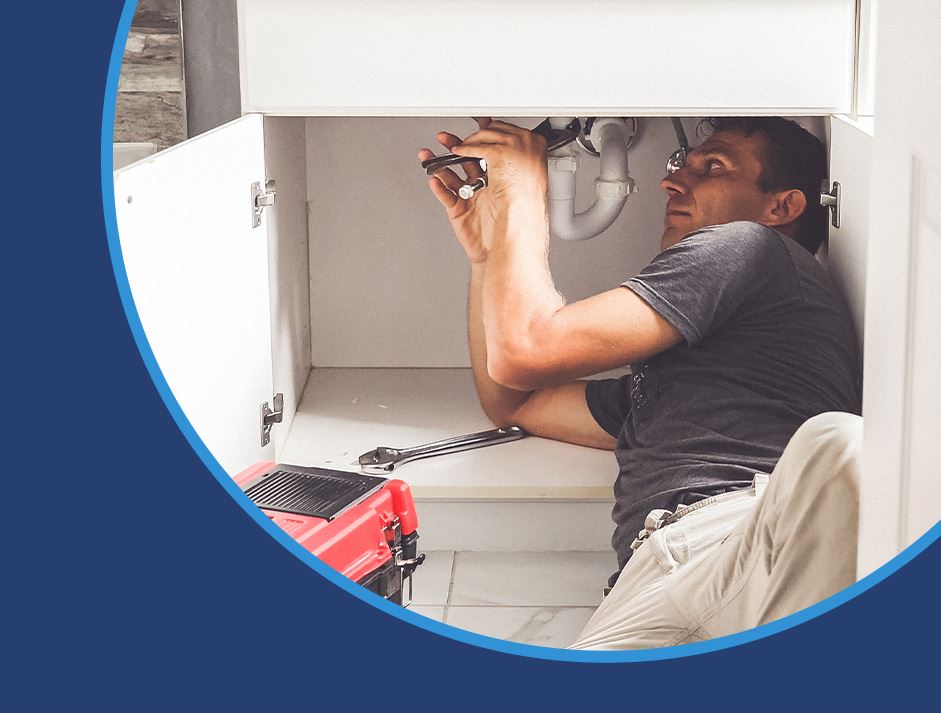 Emergency Plumbing Services Denver
When a pipe leaks or bursts or a toilet drain is severely blocked, you risk water damage and dangerous exposure to raw sewage, mold, and mildew. In these cases, you need to bring in Blue Sky Plumbing, Heating, Cooling & Electric for emergency plumbing services in Denver or the surrounding area.
Rely on Blue Sky today for any of your plumbing needs. Contact our team today to schedule a service!
What Should I Do if I Have a Plumbing Emergency in Denver?
If you do experience a plumbing emergency in Denver, it's easy to panic. However, panic doesn't solve the problem or resolve the issue. Instead, take the following steps:
Stay calm. Keep your head. Take a few deep breaths if you need to.
Turn off the main water supply. This is usually located above ground, and may be near your utility closet. It's usually labeled. Turn the knob all the way to the right. Once you do this, don't use any water again until the water is turned back on.
Assess the damage. Try to determine if there is major water damage or if you can clean it up pretty easily.
Call a professional. Reach out to us for 24 hour emergency plumbing services in Denver. We will resolve the problem and help you find water damage professionals if you need them.
What Are Some Common Emergency Plumbing Problems In Denver?
A wide variety of issues could be reasons to call your rapid response plumbers in Denver. We get these kinds of calls all the time, and these are the issues we hear about the most:
Broken pipes
Burst pipes
Gas leak
Water heater failure
Flooding
Sewage backups
Broken water line
Water leak
Drain leak
If you suspect you are experiencing any of these problems, call us at Blue Sky to get help ASAP. We will be there soon!
What Qualifies as an Emergency Plumbing Situation?
Not sure if it's time to search for someone to do an "emergency plumbing repair near me?" We don't blame you! Here are the times we usually recommend calling for emergency plumbing services in Denver:
You're in a situation that involves a potential for significant water damage.
You're in a situation that poses a danger to the occupants of a building. This can include sewage backups, since sewage can harbor bacteria that can cause significant illnesses.
You don't have another option for something that is broken. If your only toilet or only shower isn't working, you need emergency plumbing for homes ASAP.
There is the potential for serious consequences such as property damage or injury. If water damage is happening very fast and you can't stop it or someone could get hurt, call us right away.
How To Prevent Plumbing Emergencies In Denver
Make sure you don't have to call 24/7 plumbing services in Denver very often when you take preventative measures. These help avoid plumbing emergencies because they stop problems before they start, find them before they get too big, or eliminate behaviors that lead to problems later on. Prevent plumbing emergencies by taking the following actions:
Invest in regular maintenance and inspections
Fix small problems before they turn into big ones
Replace old or worn-out pipes
Avoid pouring grease or oil down the drain
Use strainers in sinks to catch food and other debris
Avoid flushing non-biodegradable items down the toilet
Denver Emergency Leak Repair & Bathroom Plumbing
Emergency Water Leak Repair
Water leaks are the primary reason for a litany of costly problems for homeowners, and require emergency water leak repair from professionals. Cracked or burst pipes can cause gallons and gallons of water to leak in the home, causing expensive water and electrical damage in the walls, warping floorboards, and hazardous mold and mildew growth. Thankfully, Blue Sky plumbers can provide the plumbing repair services needed to fix the water leaks, reduce the damage, and get your plumbing system back to normal. We are ready 24 hours a day, every day, so call us for emergency water leak repair as soon as you need our help.
Emergency Bathroom Repair
The bathroom relies entirely on the correct functioning of plumbing fixtures and faucets. So, when something goes wrong, everything gets thrown off balance, making emergency plumbing services your best bet. Clogged and corroded toilet drains, leaking faucets and showerheads, and sewer pipe blockages can wreak havoc on your plumbing system, increase your water bills, and put you and your family in danger of breathing in mold spores and being exposed to raw sewage. When you need emergency toilet repair, sewer line repair, or any other emergency plumbing service, bring in the emergency plumbers at Blue Sky. We perform expert drain clearings, pipe fixes, and faucet services to guarantee your bathroom is safe and clear of any dangers.
To learn more, or to schedule a service, call us at (303) 625-6225!
Frequently Asked Plumbing Questions
Why is my drain clogged? I'm so careful!

We believe you when you tell us that you are so careful about putting grease down your drains. Unfortunately, most people end up putting it down accidentally no matter how hard they try to do the opposite. When you rinse plates, bowls, pots, and pans in your sink, they often have a thin layer of grease on them. This gets rinsed down the drain with the rest of the debris from your plate. When this grease contacts a cold pipe downstream from the kitchen sink, it solidifies and attaches to the pipe wall. Over the years, even the smallest amounts of grease can build up and cause clogs. Don't worry, though! Your Blue Sky plumber will get that clog out fast!

What kind of sink should I get?

When it comes to getting a new sink, you have many options. These include:

Cast iron
Stainless steel
Corian
Fiberglass
Enameled steel
Acrylic
And more!

When our experts help you install a sink, we'll ask you what you plan to do with it. Will you wash dishes in it regularly? Is it likely you will drop dishes or silverware in it? Then, we'll ask you about your preferences. Do you want a large sink or a small one? Do you want a sink that sits on top of the counter or below the counter level? Once we know the answers to these questions, we'll work with you to find the perfect kind of sink for your home. In general, cast iron and stainless steel are more durable than some other types of sinks, but they may require special care.

What kind of water heater should I get?

Most of the time, the type of water heater you get will be determined by the type of connections you already have. Unless you are highly motivated to change the type of water heater that you have, the best choice is usually to get the same kind that was installed before. If you are in a place to change the type of water heater that you have, gas is often the better option. It is cheaper and can heat larger quantities of water faster. However, gas water heaters are usually larger than electric ones and you cannot store flammable liquids nearby.

Does Blue Sky Offer Commercial Plumbing Services?

Absolutely. No matter if you are a homeowner or a business owner, we've got your plumbing in Denver covered! We offer full commercial plumbing services for old or new buildings. Visit our Commercial Plumbing page to learn more about our plumbing services for businesses!

What is hydro jetting?

Hydro jetting offers a way to clean your drains without digging up your yard or pulling your home apart to access clogged pipes. Instead, we use a tool that sprays highly-pressurized water into your pipes. We control the pressure of the water and where it sprays, so we can remove your clog and clean your entire pipe. A hydrojetting tool has one nozzle that sprays forward and 6-8 that sprays backward. On the first pass, the reverse-facing jets propel the nozzle forward while the front one breaks up clogs. When we pull the nozzle back through the pipe, the reverse jets scour the edges of the pipe until they look like new. If your plumber thinks that hydrojetting is a good option for you, we'll let you know and get the job done fast.

What is the best kind of pipe for my home?

Most of the time, we suggest plastic or PEX/PVC piping for your home. This material lasts for a long time because it doesn't rust and is less likely to crack or break than some other types of pipe. Unless you are in a very specific situation, which our plumbers will discover, we highly recommend this type of piping for your home.

How do I know if my toilet is leaking?

Toilet leaks are more common than you might think. This can make your water bill sky-high and leave you wondering what is going on. Here are a few signs that your toilet is leaking:

You frequently have to jiggle the handle to make the toilet stop running.
You have to hold down the handle when to flush to get the tank to empty.
Water runs over the top of the overflow pipe.
You hear sounds of water running in the toilet when it is not being used.
Water runs down the sides of the toilet bowl long after the toilet was last used.
You hear the toilet tank refilling even though it hasn't been emptied recently.

What can I put down my garbage disposal?

As long as you use enough water, you can put almost any non-fibrous food down your garbage disposal. This includes bones up to ½" in diameter, coffee grounds, eggs and egg shells, orange rinds, apples, and potato peelings. Most problems occur when you don't use enough water and don't allow the water to run for at least 10 seconds after the food disappears.

What plumbing services does Blue Sky offer?

We offer a complete line of plumbing services. No matter what is going on with your home's plumbing, we can fix it, replace it, or install a new one. We can also help you make plumbing-related upgrades to your home. Need a new toilet, tub, sink, shower, or faucet? We have you covered. Finally, we can help you with your water heater, your water softener, or your water filtration. Call us today with all of your plumbing-related questions and we'll get you the answers you need.
Servicing Colorado Homes and Businesses for Four Generations
Call our team at Blue Sky Plumbing, Heating, Cooling & Electric anytime you need an "emergency plumbing repair near me." We offer emergency plumbing services for homes and emergency plumbing services for businesses, so we are sure we can help you whenever you need 24/7 plumbing services in Denver.
Over the years, we at Blue Sky have proudly performed emergency plumbing repairs, water line repairs, and even emergency boiler repairs for residential and commercial properties throughout the state of Colorado. We've been a Metro Denver plumbing company for over 100 years, starting all the way back in 1916.
We continually value the expertise of our technicians and the business of our customers, and we promise to provide only the best emergency plumbing services in the area, from emergency toilet repairs to emergency boiler repairs and everything else in between.
For more information on our regular and emergency plumbing services, including commercial plumbing services, please feel free to call us, day or night, or schedule service on our website and outline your emergency.
We offer complete plumbing services in Denver, its neighboring communities and the following areas:
Arvada
Evergreen
Golden
Lakewood
Wheat Ridge
Boulder
Englewood
Aurora
Broomfield
Littleton
Centennial
Conifer Check Out What Your Neighbors Are Saying!
4.8 Stars | 1900+ Google Reviews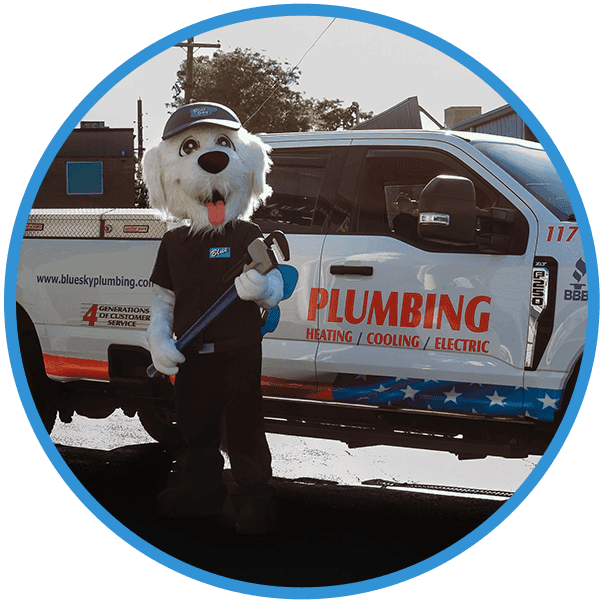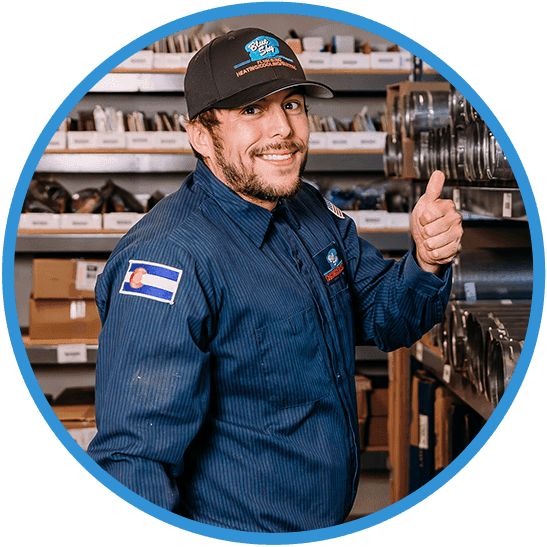 "Thank you Blue Sky!!!"

I highly recommend Blue Sky Plumbing for their professionalism and overall service from initial contact through completion and especially Eric for his superb service and professional, friendly attitude.

- Rhonda S.

"I really can't praise Blue Sky enough."

Daniel Downing arrived on time and did an excellent job. He completed the plumbing tasks expertly and gave me valuable advice on how to proceed with future projects. He thoroughly explained the work he did and how to maintain the systems he worked on.

- Greg M.

"This experience was the very best ever!"

Chris absolutely takes professionalism and friendliness to the top level of excellence. He took the time to explain to me exactly what needed to be done, and what wasn't needed to be done and answered all of my questions.

- Sarah K.

"He was outstanding."

Mario De La Cruz came today to service our hot water heating system here in Evergreen. We found him to be very pleasant, professional, and knowledgeable.

- Joyce N.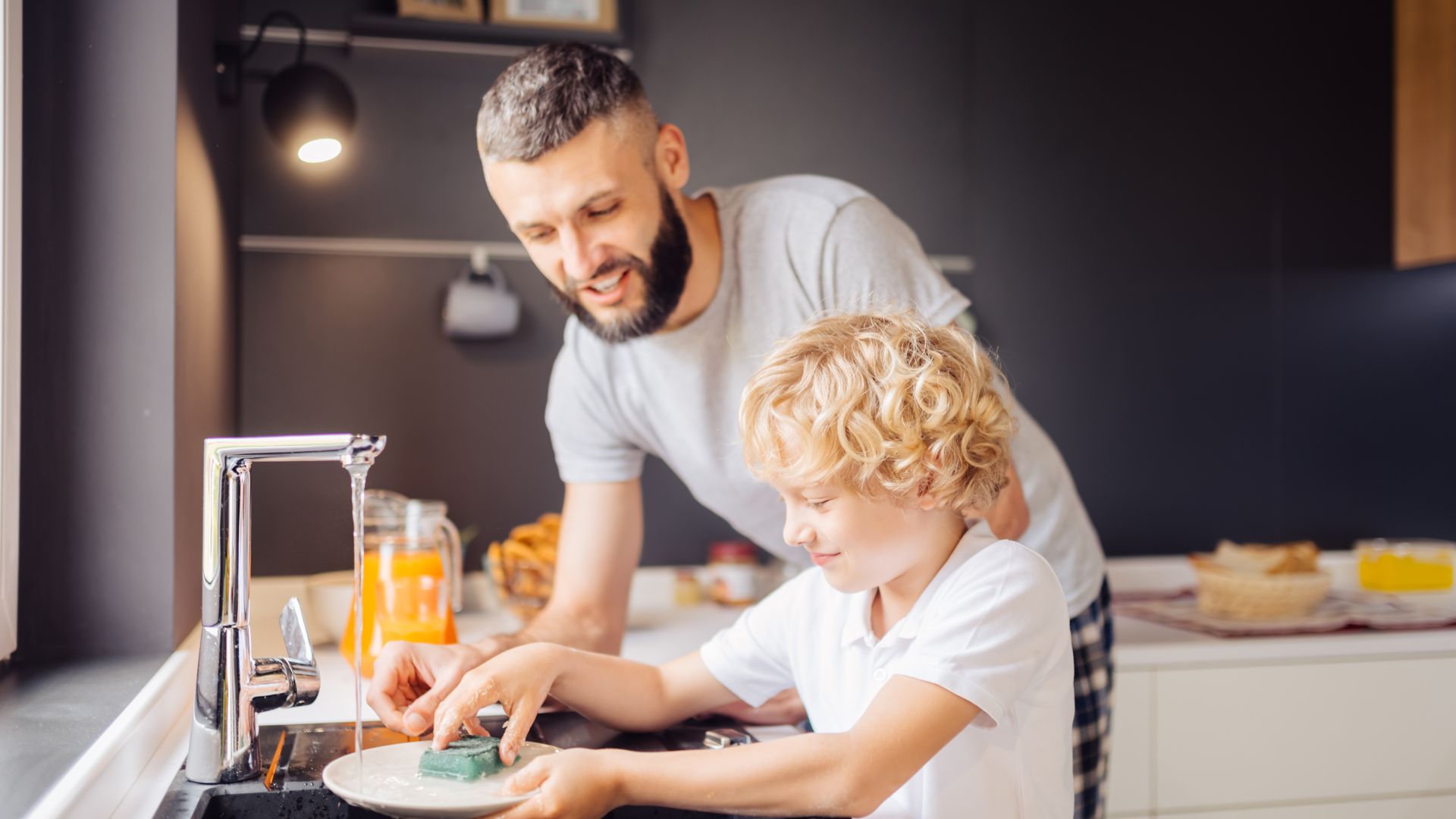 4.8 Stars | 1900+ Google Reviews

BBB A+ Rating

360+ Recommendations