Denver Swamp Cooler Services
Evaporative Cooler Services in Denver and the Surrounding Areas
Many homeowners rely on swamp coolers for their cooling needs. These eco-friendly devices work on the simple principle of evaporation, offering an energy-efficient alternative to traditional air conditioning systems. Not only do they help maintain a comfortable indoor temperature at a fraction of the cost, but they also contribute to better air quality by circulating fresh outside air, making swamp coolers a reliable and sustainable choice for home cooling.
If you have a swamp cooler that needs professional attention, trust the air conditioning experts at Blue Sky for exceptional Denver swamp cooler services! We are a family-owned company that has operated across four generations and is dedicated to offering dependable solutions for all your evaporative cooler needs. Our highly trained technicians have the skills, knowledge, and experience to assist with repairs, maintenance, and replacements.
Speak to a knowledgeable professional about what we can do for your swamp cooler today! Call (303) 625-6225 or contact us online to get started.
What Is a Swamp Cooler, and How Does It Work?
Evaporative coolers, more commonly known as swamp coolers in the United States, are excellent air conditioning appliances for areas that are hot with low levels of humidity as they use evaporation instead of refrigerants. This system uses one of the oldest air conditioning methods in the world. In fact, the ancient Egyptians were the first to use evaporation to cool their homes by employing windcatchers, which were essentially wet blankets hung on walls and doors that would "catch" the wind and naturally cool the air. Similarly, they would fan air over jugs of water to achieve the same end.
Today, swamp coolers combine those two ancient processes by drawing clean outside air over damp pads which then cool the air naturally through evaporation. At Blue Sky Plumbing & Heating, we recommend the installation of these appliances because they are effective and efficient air conditioners. Our technicians are experienced with these unique air conditioners and are prepared to perform expert Denver swamp cooler services, from installations and replacements to repairs and maintenance.
Reliable Swamp Cooler Repairs
If your swamp cooler stops working correctly, you need a professional who can quickly get to the bottom of whatever is wrong. Our technicians are well-prepared to perform proper evaporative cooler inspections, problem diagnosis, troubleshooting, and dependable repairs that will fix your unit and keep it running efficiently.
When you request our Denver swamp cooler services, we will first listen to you describe the problem. Once we have determined the nature of the issue, we'll know what we need to do to fix it for you. After explaining our recommended solution and providing an upfront estimate, we will work fast and won't stop until you have the cooling capacity you need.
Our certified swamp cooler repair technicians at Blue Sky are committed to providing the best and most affordable repair services to our customers. We have four generations of HVAC experience behind our belts, so we know how to handle almost every swamp cooler repair request you could make.
We are prepared to handle just about any swamp cooler problem, including:
Malfunctioning fans. The fan is one of the most important parts of an evaporative cooler. If it stops spinning, no cool air will blow out from the pads, keeping the water stagnant and encouraging mold and mildew growth as well as foul odors. We can fit a new fan belt, replace the motor, or repair or replace the fan itself if it is damaged or rusted.
Leaks. Hard water build-up in the reservoir, worn-out pads, and faulty float valve installations can all cause a swamp cooler leak. Our team of specialists can pinpoint the issue with ease and patch it up in no time.
Mineral buildups. Over time, the water used in a swamp cooler can leave behind mineral deposits which affect the efficiency of the cooling pads and can lead to a reduction in cooling performance. Regular maintenance and cleaning can prevent this issue.
Incorrect sizing. If your swamp cooler is too small for the space it needs to cool, it will not function effectively and may wear out more rapidly from overuse. Conversely, a cooler that is too large for the space can lead to excessive humidity and discomfort.
Swamp Cooler Installations
Are you considering a swamp cooler for your cooling needs, or do you need to replace an old or faulty one? When you are looking to install a more efficient air conditioning appliance for your home, evaporative coolers should be at the top of your list. This AC equipment works great during Colorado's hotter months and is astoundingly efficient, using only 10 percent of the energy consumed by traditional air conditioning systems. Because these systems are efficient and eco-friendly, seriously limiting necessary fossil fuel consumption, they are excellent, money-saving choices for air conditioner replacement.
We won't just install any old swamp cooler in your home. Instead, we'll match your needs and usage patterns to a swamp cooler that comes from one of our reliable manufacturers. In fact, we won't ever give you a swamp cooler that we wouldn't be happy having in our own homes!
Once you choose your new cooler, we'll get it installed for you fast. We'll make sure each part is working according to manufacturer specifications and we'll test it to make sure it's cooling well. Our team will make sure you are fully satisfied with your new swamp cooler before we leave.
Our technicians have been completing swamp cooler installations, and they know how to correctly switch out old, inefficient air conditioning units for swamp coolers throughout the region.
Signs Your Swamp Cooler Needs Repairs
You should call the professionals at Blue Sky at the first sign of needing a swamp cooler repair. These problems won't fix themselves, and they will get worse if you don't get them taken care of quickly. By acting fast, we may even be able to fix your swamp cooler before it suffers catastrophic damage. Do not wait to get in touch with our team if you notice any of the following issues with your swamp cooler:
Inadequate cooling. If your home isn't as cool as it should be, the pads might be worn out, or the cooling unit might not be getting enough water. Ignoring this issue can lead to further damage, hence the need for prompt professional intervention.
Unusual noises. Strange sounds emanating from your swamp cooler can be indicative of motor issues or a damaged fan belt. A quick response to these symptoms can prevent more serious problems down the line.
Unpleasant odors. A musty or foul smell could mean that the water in your cooler isn't being changed often enough. It could also be a sign of mold or mildew buildup. Our professional technicians can remove these contaminants and fix the underlying issue.
Unusually high energy bills. If your energy bills are higher than usual despite no major changes in energy consumption, it could be a sign that the swamp cooler is not functioning efficiently. We can diagnose the issue and recommend necessary repairs or adjustments.
For more information about swamp coolers or to request a swamp cooler installation or replacement, we encourage you to reach out and take advantage of our swamp cooler rebates.
Why You Need Swamp Cooler Maintenance
The leading cause of HVAC unit troubles and premature failures is the everyday wear and tear on mechanical components that have been neglected for too long. Over time, parts can begin to rust, stick, or fall apart, causing significant drops in efficiency and leading to early equipment replacements, and swamp coolers are no exception!
Swamp coolers may be the most efficient air conditioning systems on the market, but to guarantee longevity and efficiency, you must have professional technicians perform regular swamp cooler maintenance each year. Fortunately, our experts at Blue Sky are well-equipped and trained to handle all swamp cooler services in Denver, including maintenance and repairs, for competitive rates all year long.
Since swamp coolers use water and electricity to effectively cool your home, many issues can begin cropping up if swamp cooler maintenance is neglected for too long. Our skilled technicians are professionally trained on all cooler brands and carry an assortment of repair and maintenance components when conducting swamp cooler check-ups.
Outside our annual maintenance visits, there are several things you can do to maintain your swamp cooler, including:
Regularly replacing the water pads. You should replace your water pads at the beginning of each season.
Checking your pads each month. If you notice they have become dirty, switch them as soon as possible. When you have clean pads, your system is safer and more energy-efficient!
Routinely empty the drip pan. When the cooler isn't in use, empty its drip pan, as dirty or stagnant water can breed bacteria.
To learn more about evaporative coolers or to bring our experts for Denver swamp cooler services, call (303) 625-6225 or contact us online today!
Air Conditioning Services FAQ
Do I need air quality testing?

Are you concerned about your indoor air quality? Do you want to breathe high-quality air and you're not sure if you're doing so? Then air quality testing might be right for you. We recommend air quality testing if you've had construction in your home or in nearby areas. You may also want to have your indoor air tested if you're struggling with allergies and asthma when you're in your home. We can test for all sorts of contaminants, then let you know what we find, and design an air filtration or purification system that will address your specific needs.

How can I spend less on cooling costs?

When your air conditioner is working efficiently, you won't have to spend as much on cooling costs. Here are a few tips for making your air conditioner work better:

Change your filter regularly. When your filter is dirty, your air conditioner has to work extra hard to get the air that it cools.
Use a programmable thermostat or one you can control with your smartphone. This allows you to keep your home warmer when you aren't there while still lowering the temperature before you get home.
Check your insulation. Insulation isn't just for the winter! In the summer, it can keep your cool air inside and the warm air outside so you can stay more comfortable for a longer time.

When should I choose a window air conditioner?

Window air conditioners are the best option for air conditioning when:

You cannot install another type of air conditioner because you're renting or because your building cannot support it.
You only want to cool a single room or space in your home, or you need some extra cooling power for a small space.
You don't use air conditioning very often so it's not worth the expense of installing ductwork and other components necessary for other air conditioning systems.

Do I need a new air conditioner?

Not sure if it's time to buy a new air conditioner? Our experts will come to take a look at your current one and let you know what they recommend. We usually tell people to get a new A/C under the following circumstances:

Your current air conditioner is near the end of its lifespan and you're concerned about an emergency breakdown or our technician thinks that a breakdown is near.
You need to fix your air conditioner and the repair will cost more than half the cost of replacing the unit.
You've been calling frequently for A/C repairs and you're tired of the hassle or you feel like you've spent too much money on smaller repairs.

How do I clean my air conditioner?

Cleaning your air conditioner can be a great way to keep it running well and make sure that it isn't working so hard that it experiences extra wear and tear.

1. Turn off the air conditioner and flip the circuit breaker so it's not getting any power.

2. Remove the cover on your outdoor unit.

3. Use a condenser cleaner to clean your condenser coils. Follow the directions on the bottle to achieve maximum cleanliness.

4. Change your air conditioning filter.

Should I call for AC maintenance?

We offer comprehensive air conditioning maintenance. However, a lot of homeowners aren't sure why they would ask for this service because they aren't sure how it benefits them. Here are just a few of the things you can gain when you call us for A/C maintenance.

A more efficient air conditioner. Make your air conditioner use energy better, which will lower your bills every month.
Stay cooler at home. Your air conditioner may be able to process more cold air after it gets tuned up, which means that it will be more effective at cooling your home.
Avoid major A/C problems later. Find any potential air conditioning issues before they cause a major malfunction and get them fixed before you need to rely on your air conditioner again.

What is the best type of air conditioner for me?

Most people think of traditional air conditioners when it comes to cooling their homes. However, there are actually many options when it comes to getting you and your family comfortable during the summer. Your options include:

Central air conditioners
Window air conditioners
Portable air conditioners
Heat pumps
Ductless mini-split air conditioning systems

Every situation and every person requires a different type of air conditioner. Our experts will take a look at your situation, talk to you about your cooling needs, and then recommend the type or types of air conditioner that we think would work best for you.

Which air conditioning services does Blue Sky offer?

No matter what is going on with your air conditioning, we'll work with you to help you find the right solutions for your needs. We can fix your air conditioner, replace it with a new one, and install any parts you need to have installed. We'll make sure you have the cool air that you and your family need so you can live well all summer long. Check Out What Your Neighbors Are Saying!
4.8 Stars | 1900+ Google Reviews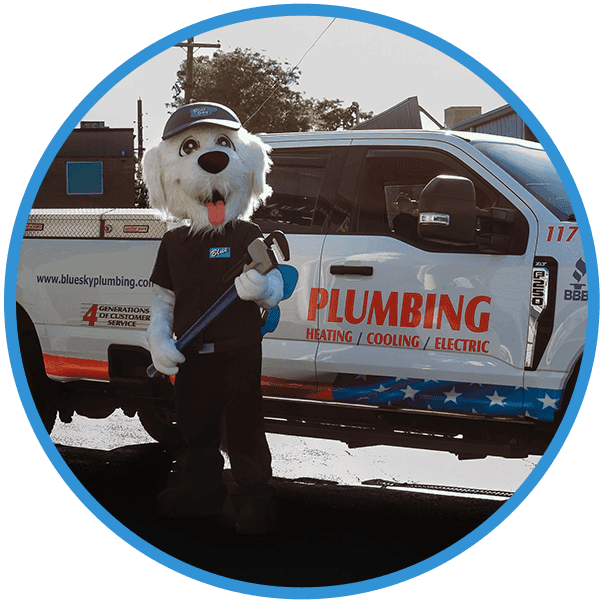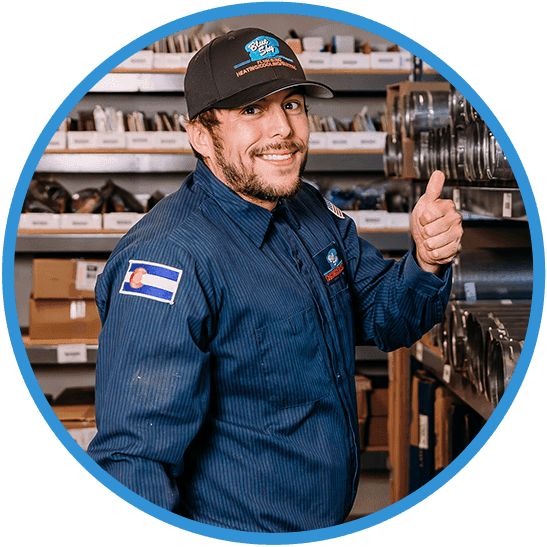 "Thank you Blue Sky!!!"

I highly recommend Blue Sky Plumbing for their professionalism and overall service from initial contact through completion and especially Eric for his superb service and professional, friendly attitude.

- Rhonda S.

"I really can't praise Blue Sky enough."

Daniel Downing arrived on time and did an excellent job. He completed the plumbing tasks expertly and gave me valuable advice on how to proceed with future projects. He thoroughly explained the work he did and how to maintain the systems he worked on.

- Greg M.

"This experience was the very best ever!"

Chris absolutely takes professionalism and friendliness to the top level of excellence. He took the time to explain to me exactly what needed to be done, and what wasn't needed to be done and answered all of my questions.

- Sarah K.

"He was outstanding."

Mario De La Cruz came today to service our hot water heating system here in Evergreen. We found him to be very pleasant, professional, and knowledgeable.

- Joyce N.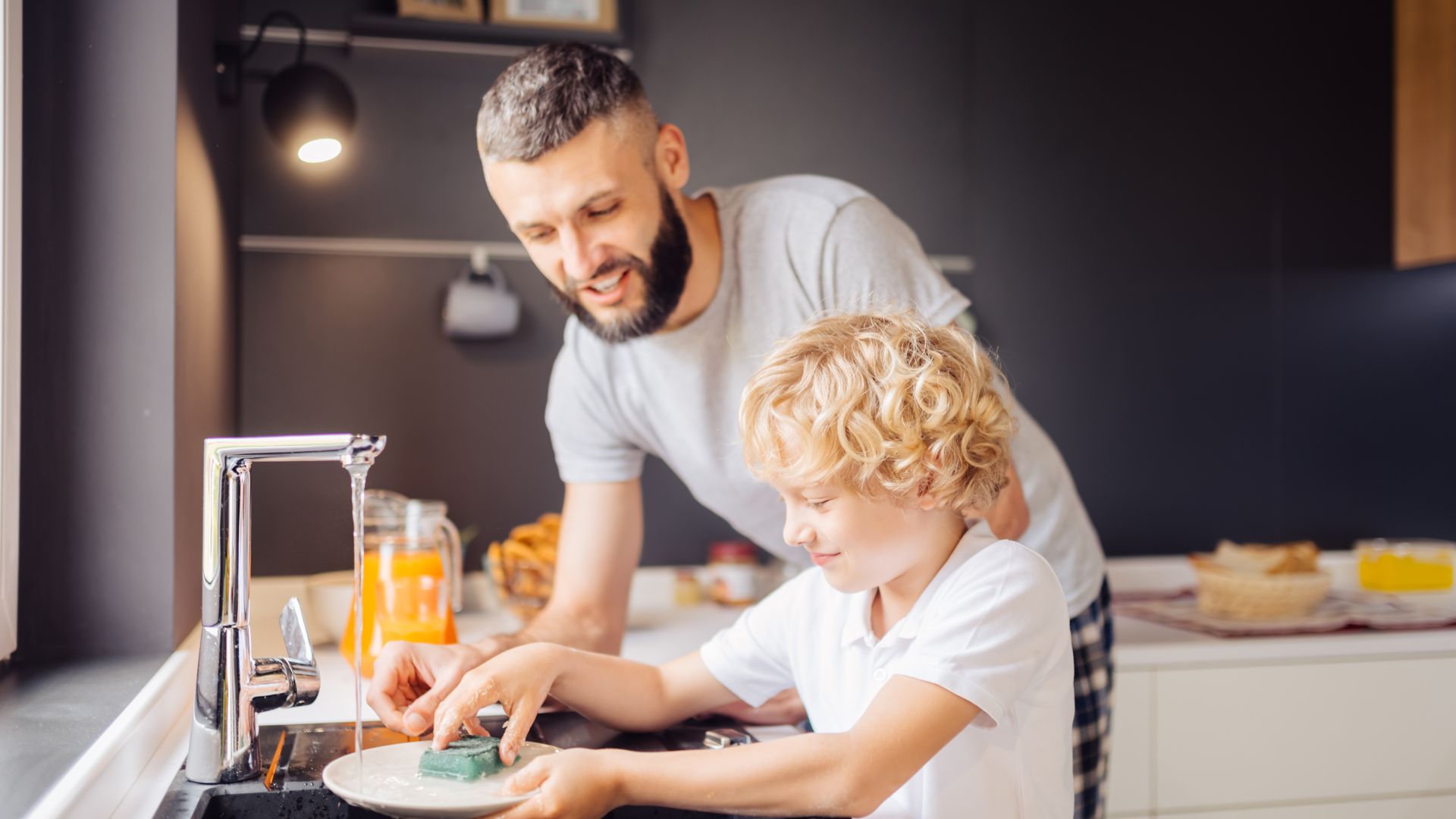 4.8 Stars | 1900+ Google Reviews

BBB A+ Rating

360+ Recommendations