Denver Heating Repair
At Blue Sky, we understand the importance of staying warm and cozy when the mercury dips. That's why our team is committed to offering top-tier heating repair services in Denver and throughout Colorado's Front Range.
Our HVAC technicians are experienced and reliable professionals who know exactly how crucial an efficient heating system is to your home or business. No matter the issue, our team can keep your system in shape for the colder months. No matter how big or small the problem, we have the skills, experience, and dedication to do the job right.
Call (303) 625-6225 today to schedule service.
Signs of a Faulty Heating System
Knowing when your heating system requires professional attention can be challenging, but several telltale signs can indicate that it may need to be repaired.
Some common signs that your AC needs professional attention include:
Unusual noises: If your heating system starts making strange, unexpected noises, you may have a mechanical issue that needs immediate attention.
Inconsistent heating: If some rooms in your home are too hot while others are too cold, your heating system may not be distributing heat evenly.
Unexpected increase in energy bills: A sudden spike in your energy bills could point to an inefficient heating system that needs repair.
Frequent cycling: If your heating system is turning on and off more frequently than usual, it may be struggling to maintain your desired temperature.
Poor air quality: If you notice an increase in dust or dry air in your home, it could be due to a problem with your heating system's filter or ductwork.
If you are experiencing any issues with your heating system, our team is standing by and ready to get it back up and running. We can also provide maintenance services to keep your system working at peak performance all winter.
Should I Attempt to Repair My Heater?
It's natural to consider tackling heating issues yourself, especially if you're a hands-on person. However, DIY heater repairs can often result in more harm than good, potentially leading to safety issues and hefty repair costs.
Heating systems are complex and delicate. Incorrect handling can damage critical components, resulting in the need for repairs or even total replacements. Moreover, you may expose yourself to serious risks, such as electrical shocks or gas leaks, without proper training and safety awareness.
Going with the pros is a good idea for many reasons, including the following:
Experienced professionals: Our HVAC technicians are seasoned professionals trained to diagnose and fix issues accurately and safely.
24/7 availability: We offer round-the-clock emergency repair services, ensuring you're never left in the cold due to a sudden heater breakdown.
Quality assurance: We stand by the quality of our work, providing guarantees for our repair services to ensure your peace of mind. Our ultimate goal is to ensure you are 100% satisfied with our services. We don't consider our job done until you are completely happy with the result.
Safety compliance: Our experts adhere to strict safety protocols when performing repairs, ensuring the safety of your household or commercial property.
Transparent pricing: With Blue Sky, there are no hidden fees or surprise charges. We maintain transparency in our pricing, providing you with a detailed quote before starting any repair work.
Up-to-date knowledge: As technology evolves, so do heating systems. Our technicians stay abreast of the latest advancements and techniques in heating repair to ensure we can handle any system, old or new.
By trusting Blue Sky with your heating repairs, you can rest assured that your heating system is in capable, professional hands.
Comprehensive Heating Repair Services in Denver
At Blue Sky, we take pride in providing a broad range of heating repair services.
Our team of professionals has extensive experience handling a variety of heating systems, including:
Garage heaters
Infloor radiant heat
Infrared heaters
Tube heaters
Rooftop units.
We also offer emergency heating repair services, so you never need to worry about your heater leaving you out in the cold.
Schedule a service with our team. You can rely on Blue Sky to keep your home warm year round!
What kinds of heaters will Blue Sky work on?

All Makes and Models
Boilers:

Boiler Installations
Boiler Maintenance
Boiler Repairs

Furnaces

Furnace Repair
Furnace Installation
Furnace Maintenance
Commercial Furnace Services

Electric Heater Installation
Emergency Heating Repair
Garage Heaters
Humidifier Installation
Indirect Fire Water Heaters + Sidearm Water Heaters
In-floor Radiant Heat
Infrared Heaters
Old Furnace Removal with New System
Rooftop Unit Repair and Installation
Smart Thermostat Installation
Tube Heaters
Unit Heater Installation

How can I save money on heating this winter?

It's easy to save money on heating when you make sure that your heater is working as well as it possibly can.

Consider lowering the temperature. Turn down the thermostat until your family starts to notice that it's colder.
Get a programmable or smart thermostat. These allow you to keep your home cooler during the hours when you aren't there while still warming it up by the time you get home.
Make sure your heater is working efficiently. See the tips offered above for how to do this.

When do I need a new heater?

If your heater is near the end of its lifespan and/or isn't working the way you need it to, call Blue Sky today to ask about getting a new heater. Our experts will evaluate your current heater and let you know what we recommend. In general, we often recommend a new heater when:

Your current heater needs repairs that cost more than half of what it would cost to replace it.
You have had to call for frequent repairs and it seems like your heater is wearing out.
Your heater is near the end of its lifespan and you are concerned about breakdowns.
Your heater cannot effectively heat your home.

What can I do to make my heater safe this winter?

Are you concerned about heating safety this winter? If you want to make sure your heater is safe, here's what you can do:

Do not close more than 20% of the heating registers in your home.
Use a carbon monoxide detector. This will ensure that your gas furnace is burning natural gas properly and is not releasing dangerous gases into your house.
Check your pilot light. If your pilot light goes out regularly or changes color, it's time to bring in a professional. Your gas line may be malfunctioning or there may be a stream of air getting into your furnace. Gas problems are nothing to laugh at, so bring in a professional as soon as possible.

How can I maximize my heater's efficiency?

No one loves to pay high heating bills. Here are a few things you can do to make sure your heater is working optimally this winter:

Change your filter regularly. Our experts can tell you how often this is for your heater and your home, or you can change it once every 1-3 months. Make sure your insulation is optimized. You should have plenty of insulation to keep your warm air in and not let it escape.
-Consider other heating sources. Use space heaters if you only want to heat a small part of your home at once. Get your heater tuned up. Our tune-up service includes cleaning out your heater so that it doesn't have to work so hard, which means it won't use as much energy.

What does Blue Sky offer when it comes to heating services?

We will take care of any problems that you have with your heating system. No matter what kind of heating you have, we have experts on staff who understand your system and get you warm again soon. We'll handle any repairs, replacements, or installations that you need to have done to keep your home functioning well and everyone inside it comfortable. Check Out What Your Neighbors Are Saying!
4.8 Stars | 1900+ Google Reviews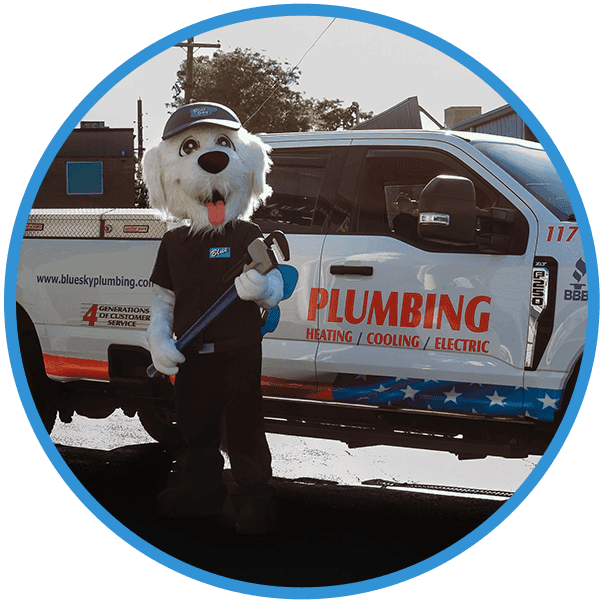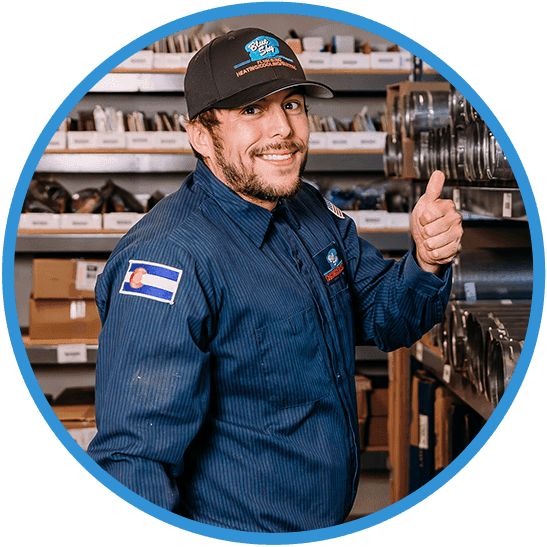 "Thank you Blue Sky!!!"

I highly recommend Blue Sky Plumbing for their professionalism and overall service from initial contact through completion and especially Eric for his superb service and professional, friendly attitude.

- Rhonda S.

"I really can't praise Blue Sky enough."

Daniel Downing arrived on time and did an excellent job. He completed the plumbing tasks expertly and gave me valuable advice on how to proceed with future projects. He thoroughly explained the work he did and how to maintain the systems he worked on.

- Greg M.

"This experience was the very best ever!"

Chris absolutely takes professionalism and friendliness to the top level of excellence. He took the time to explain to me exactly what needed to be done, and what wasn't needed to be done and answered all of my questions.

- Sarah K.

"He was outstanding."

Mario De La Cruz came today to service our hot water heating system here in Evergreen. We found him to be very pleasant, professional, and knowledgeable.

- Joyce N.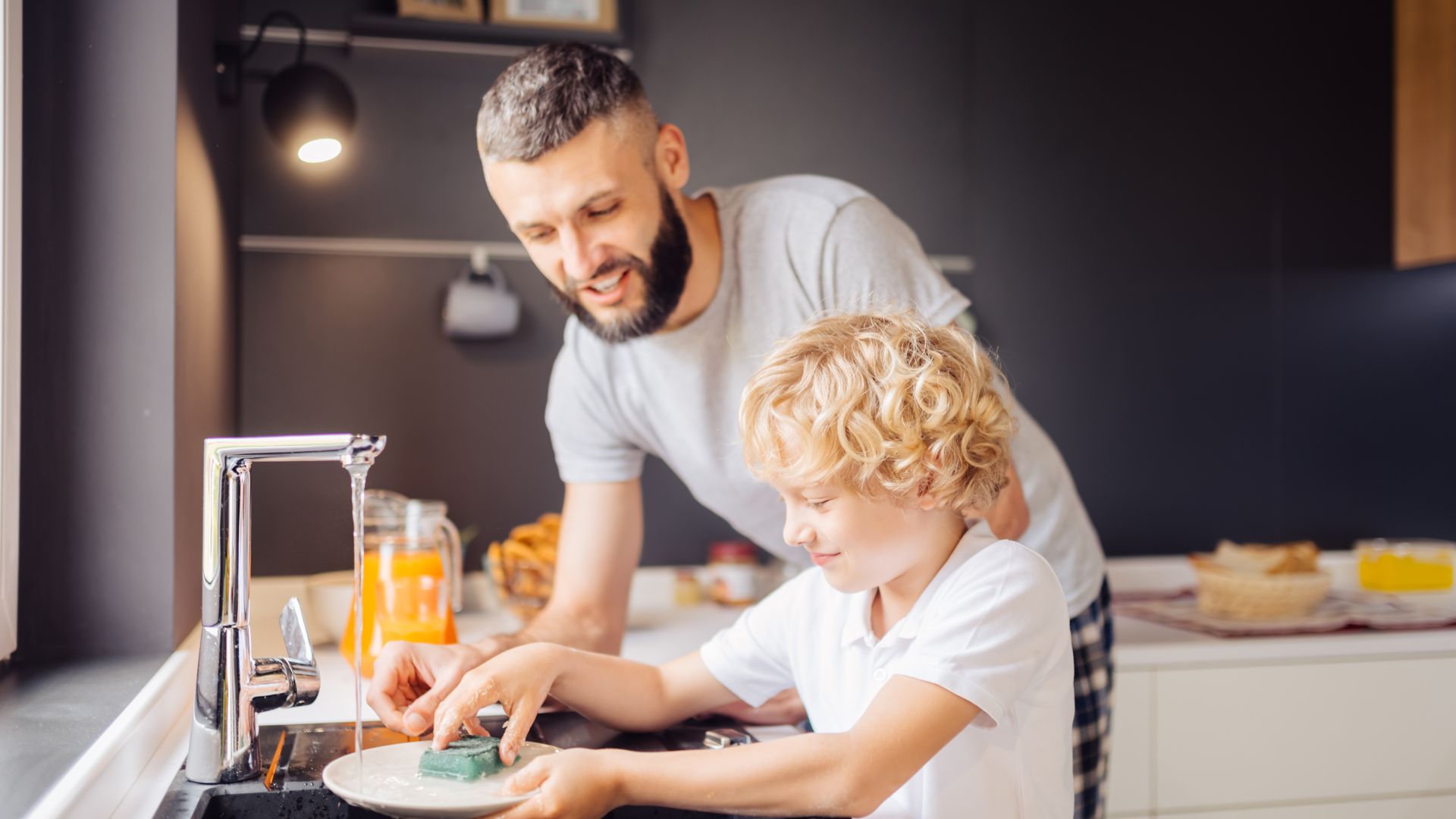 4.8 Stars | 1900+ Google Reviews

BBB A+ Rating

360+ Recommendations