Denver Water Line Services
A water line is a critical component of any building's infrastructure, acting as the conduit for transporting fresh water from municipal sources to a home or business. It plays a pivotal role in ensuring the availability of clean, safe water, which is fundamental to every aspect of our daily lives, from cooking and cleaning to maintaining hygiene standards.
Blue Sky is proud to provide an extensive array of water line services in Denver. With our team's collective knowledge, experience, and commitment, we are adept at handling every aspect of water line management—installation, repair, replacements, and excavations. Our goal is to help maintain the smooth operation of your water lines, thereby contributing to a healthier and more comfortable living or working environment.
To get started, call (303) 625-6225 today.
How Does a Water Line Work?
A water line operates on a relatively simple principle, yet it's instrumental in delivering vital water supplies to your home or business. The water line is connected to the city's main water supply and extends directly to your property.
Municipal water systems rely on pressure to deliver water to your taps. Typically, the water is stored in a tower or reservoir at a higher elevation than your home, allowing gravity to provide the necessary force to push it through the extensive network of pipes. The water line is routed underground to protect against temperature fluctuations and potential damage.
In the event of a drop in pressure, pumps located at the water treatment facility provide an additional boost to ensure a continuous flow of water.
Once the water reaches your property, it is distributed to various outlets through a network of smaller pipes, including sinks, toilets, and outdoor faucets. A water meter accurately tracks your usage for utility billing purposes.
Ensuring the proper upkeep of your water line is vital for a reliable and uninterrupted supply of clean, safe water. Any issues like leaks or blockages can disrupt this supply and potentially result in expensive water damage. If you encounter any problems with your water line, our team of professionals at Blue Sky is prepared to assist.
Is There a Problem with My Water Line?
Water line issues can be sneaky, quietly leading to problems that may go unnoticed initially. By recognizing the signs of a malfunctioning water line, you can catch problems early on and avoid extensive damage.
Here are signs that may indicate a need for water line service:
Unexpected increase in water bills: If your water bills are rising without a corresponding increase in usage, you could have a leak in your water line.
Low water pressure: Reduced water pressure can be a symptom of a crack or blockage in your water line.
Discolored water: If your water has a brown or yellow tint, you may have rust in your water line.
Constantly wet spots in your yard: Unexplained soggy areas can be a clear sign of water line leakage.
Unusual sounds: Humming or whistling noises from your faucets often indicate a pressure issue in the water line.
Unpleasant odors: If an odd smell emanates from your faucets, it could be a sign of bacterial contamination in your water line.
The above list is not exhaustive, and issues with the water line can manifest in various other ways. If you suspect a problem with your water line, it is advisable to contact Blue Sky immediately. Our technicians have extensive experience in identifying and resolving a wide range of water line issues.
Water Line Excavation
At times, effective water line repair or replacement necessitates excavation work. Although this may seem daunting, rest assured that excavation is not an issue for our team. Equipped with extensive training, experience, and the right tools, our technicians are fully prepared to handle these complex tasks.
Water line excavation involves careful digging to reach the damaged line or main. The process requires precision to avoid causing further damage or disrupting surrounding utilities. Once the faulty portion of the line is exposed, our team can effectively repair or replace it, ensuring your water supply is restored and functioning optimally.
Whether the job involves a simple water line repair or an extensive water main replacement, Blue Sky has the experience and resources to see it through. We prioritize your satisfaction and peace of mind, delivering quality service you can trust.
Don't let the prospect of excavation work deter you from addressing your water line issues-- rely on Blue Sky instead.
Contact our team of dedicated water line excavation experts today by calling (303) 625-6225 or by filling out our online form.
Frequently Asked Plumbing Questions
What plumbing services does Blue Sky offer?

We offer a complete line of plumbing services. No matter what is going on with your home's plumbing, we can fix it, replace it, or install a new one. We can also help you make plumbing-related upgrades to your home. Need a new toilet, tub, sink, shower, or faucet? We have you covered. Finally, we can help you with your water heater, your water softener, or your water filtration. Call us today with all of your plumbing-related questions and we'll get you the answers you need.

What can I put down my garbage disposal?

As long as you use enough water, you can put almost any non-fibrous food down your garbage disposal. This includes bones up to ½" in diameter, coffee grounds, eggs and egg shells, orange rinds, apples, and potato peelings. Most problems occur when you don't use enough water and don't allow the water to run for at least 10 seconds after the food disappears.

How do I know if my toilet is leaking?

Toilet leaks are more common than you might think. This can make your water bill sky-high and leave you wondering what is going on. Here are a few signs that your toilet is leaking:

You frequently have to jiggle the handle to make the toilet stop running.
You have to hold down the handle when to flush to get the tank to empty.
Water runs over the top of the overflow pipe.
You hear sounds of water running in the toilet when it is not being used.
Water runs down the sides of the toilet bowl long after the toilet was last used.
You hear the toilet tank refilling even though it hasn't been emptied recently.

What is the best kind of pipe for my home?

Most of the time, we suggest plastic or PEX/PVC piping for your home. This material lasts for a long time because it doesn't rust and is less likely to crack or break than some other types of pipe. Unless you are in a very specific situation, which our plumbers will discover, we highly recommend this type of piping for your home.

What is hydro jetting?

Hydro jetting offers a way to clean your drains without digging up your yard or pulling your home apart to access clogged pipes. Instead, we use a tool that sprays highly-pressurized water into your pipes. We control the pressure of the water and where it sprays, so we can remove your clog and clean your entire pipe. A hydrojetting tool has one nozzle that sprays forward and 6-8 that sprays backward. On the first pass, the reverse-facing jets propel the nozzle forward while the front one breaks up clogs. When we pull the nozzle back through the pipe, the reverse jets scour the edges of the pipe until they look like new. If your plumber thinks that hydrojetting is a good option for you, we'll let you know and get the job done fast.

Does Blue Sky Offer Commercial Plumbing Services?

Absolutely. No matter if you are a homeowner or a business owner, we've got your plumbing in Denver covered! We offer full commercial plumbing services for old or new buildings. Visit our Commercial Plumbing page to learn more about our plumbing services for businesses!

What kind of water heater should I get?

Most of the time, the type of water heater you get will be determined by the type of connections you already have. Unless you are highly motivated to change the type of water heater that you have, the best choice is usually to get the same kind that was installed before. If you are in a place to change the type of water heater that you have, gas is often the better option. It is cheaper and can heat larger quantities of water faster. However, gas water heaters are usually larger than electric ones and you cannot store flammable liquids nearby.

What kind of sink should I get?

When it comes to getting a new sink, you have many options. These include:

Cast iron
Stainless steel
Corian
Fiberglass
Enameled steel
Acrylic
And more!

When our experts help you install a sink, we'll ask you what you plan to do with it. Will you wash dishes in it regularly? Is it likely you will drop dishes or silverware in it? Then, we'll ask you about your preferences. Do you want a large sink or a small one? Do you want a sink that sits on top of the counter or below the counter level? Once we know the answers to these questions, we'll work with you to find the perfect kind of sink for your home. In general, cast iron and stainless steel are more durable than some other types of sinks, but they may require special care.

Why is my drain clogged? I'm so careful!

We believe you when you tell us that you are so careful about putting grease down your drains. Unfortunately, most people end up putting it down accidentally no matter how hard they try to do the opposite. When you rinse plates, bowls, pots, and pans in your sink, they often have a thin layer of grease on them. This gets rinsed down the drain with the rest of the debris from your plate. When this grease contacts a cold pipe downstream from the kitchen sink, it solidifies and attaches to the pipe wall. Over the years, even the smallest amounts of grease can build up and cause clogs. Don't worry, though! Your Blue Sky plumber will get that clog out fast! Check Out What Your Neighbors Are Saying!
4.8 Stars | 1900+ Google Reviews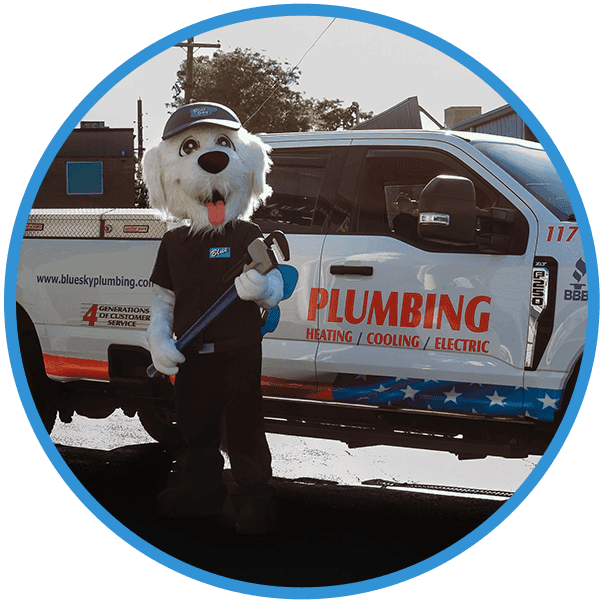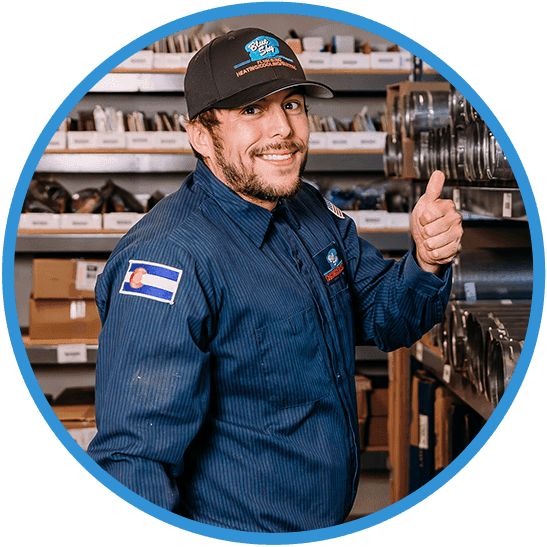 "Thank you Blue Sky!!!"

I highly recommend Blue Sky Plumbing for their professionalism and overall service from initial contact through completion and especially Eric for his superb service and professional, friendly attitude.

- Rhonda S.

"I really can't praise Blue Sky enough."

Daniel Downing arrived on time and did an excellent job. He completed the plumbing tasks expertly and gave me valuable advice on how to proceed with future projects. He thoroughly explained the work he did and how to maintain the systems he worked on.

- Greg M.

"This experience was the very best ever!"

Chris absolutely takes professionalism and friendliness to the top level of excellence. He took the time to explain to me exactly what needed to be done, and what wasn't needed to be done and answered all of my questions.

- Sarah K.

"He was outstanding."

Mario De La Cruz came today to service our hot water heating system here in Evergreen. We found him to be very pleasant, professional, and knowledgeable.

- Joyce N.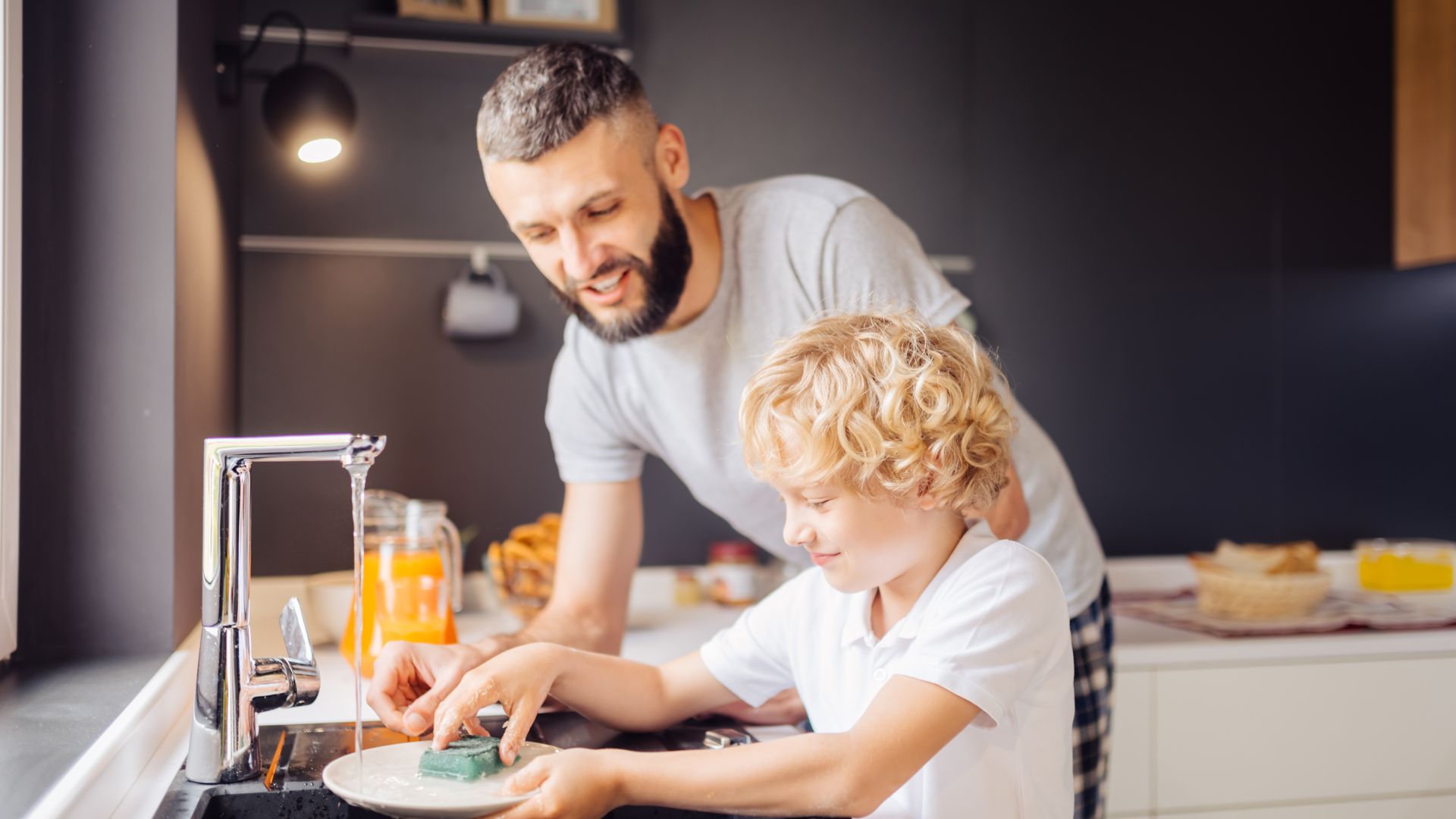 4.8 Stars | 1900+ Google Reviews

BBB A+ Rating

360+ Recommendations