Smoke Alarm Installation in Denver
Keeping Your Family Safe
If you are having problems with the smoke detector at your place in the Denver area, call the team at Blue Sky Plumbing & Heating. We have a staff of electricians committed to providing repairs, maintenance, replacements, and installations to ensure you stay safe and protected inside your home or business.
With highly trained experts and 24/7 emergency services, we can assist you at any time. Call (303) 625-6225 or contact us online to speak to our team about Denver smoke alarm services today!
Installing Your Property's Smoke Alarms
It is vital to your home or business property's safety that you ensure that your smoke alarms are properly installed, as well as replaced on schedule. These devices alert you to the presence of smoke and could be the difference between life and death. Our staff will come out to your place in Denver and install new ones wherever you need, to provide you with peace of mind that you are protected from harm. We can review the many different kinds to see which would work best for your needs.
Smoke Alarm Repairs
Are you having issues with a faulty smoke alarm? Does it beep constantly, or not at all? Our staff can come out and do repairs on it to ensure it is working as it is supposed to and ready to alert you to any dangerous situations. We have a team of certified electricians who will carefully inspect the device to locate the source of the issue. Then we can get it fixed and working again promptly, providing you with peace of mind that you and your family are properly protected.
Smoke Alarm Problems? Call Our Electricians!
Contact the experts at Blue Sky Plumbing & Heating to have us perform prompt replacement, installation, or repairs for your property's smoke alarm. We work around the clock to be available at a moment's notice because we know that some issues can't wait and must be addressed immediately.
Get in contact with our team at (303) 625-6225 to make an appointment for smoke alarm repairs in Denver!
What is involved in installing a hot tub?

Are you thinking about getting a new hot tub? They can provide you a great way to relax and have fun with the people you love. However, you need to make sure that you have the right electrical setup before you try to use your new tub. Some hot tubs are "plug and play" so you can simply plug them into an outdoor electrical outlet. However, most hot tubs require more voltage than normal. This can mean installing a new circuit or upgrading an existing one so that your hot tub will function. Our experts from Blue Sky can take a look at your new hot tub and your existing electrical setup and get everything working well soon.

What should I do if my breakers keep tripping or my fuses keep blowing?

Breakers flip every now and then and fuses blow. It's only a problem when it keeps happening, either on the same circuit or on different ones. If you have problems on different circuits, the issue may lie in your fuse or breaker box. Get a pro to test it out and see what is going on. If there's one circuit that keeps causing problems, make sure you don't have too many high-wattage devices plugged into it. Try unplugging one to see if the problem continues. You may need to plug some devices in somewhere else or install a new circuit to handle the necessary wattage.

What can I do to prevent power surges?

Avoid damage from power surges when you install a whole-home surge protector or use highly-rated surge protectors for all of your important plugs and outlets. If you find out that you are having regular power surges, remove any cheap electronic devices from the system and see if the surges continue. If they keep going, it's time to bring in an electrical professional to test your system and find the problem.

When should I call a professional electrician?

Bring in a professional for most electrical problems and installations. Working with electricity can be dangerous and it's not worth an injury just to do it yourself. We know that people worry about the hassle and the cost of calling an electrician. At Blue Sky, we promise to do our work when it's convenient for you. We also promise to work with you as much as possible on the cost of repairs or installations so you can have a safe, functional electrical system that you don't have to worry about.

How can I improve my home's lighting?

There are so many things you can do to improve your lighting. We can install lights that highlight or spotlight certain features of a room or certain pieces of art. We can also install lights so that they are convenient for the areas where you read or work. Finally, we can update your lighting so that it fits in with the look and feel of your home and the latest trends if you care about those. Call us today to make your lighting better than it's ever been.

Why are my electrical bills so high?

Electrical bills can go up for many reasons. A surprising number of our customers find that their bills go up because the electrical company raises rates. They may notify you, but these notifications are easy to miss. If your company hasn't raised rates, there are a number of places where your electrical system might be leaking electricity. The best way to find out what is going on in your home is to bring in an electrical professional from Blue Sky to find the problem and fix it quickly.

How can I know that my home's electrical system is safe?

Perform an electrical safety inspection at home at least once a year. Start by checking your fuse panel or breaker box. Make sure that it's not overloaded and that there aren't any loose wires or connections. If you have circuit breakers, flip a couple and make sure the box is working as designed. Next, examine all visible cords and wires. Make sure that there aren't any exposed wires and that all cords are plugged in properly. Finally, if you have GFCI outlets in your home, check them to make sure they are fully functional.

What electrical services does Blue Sky offer?

We'll take care of your electrical system no matter what is going on. From simple repairs, like fixing an outlet, to complex ones, like replacing your breaker box or rewiring your home, our experienced electricians have your back. We'll get to you fast, find the problem, and take care of it ASAP. We can also handle all of your electrical replacement and electrical installation needs. Our experts will get your home's electricity working just the way you need it to work. Check Out What Your Neighbors Are Saying!
4.8 Stars | 1900+ Google Reviews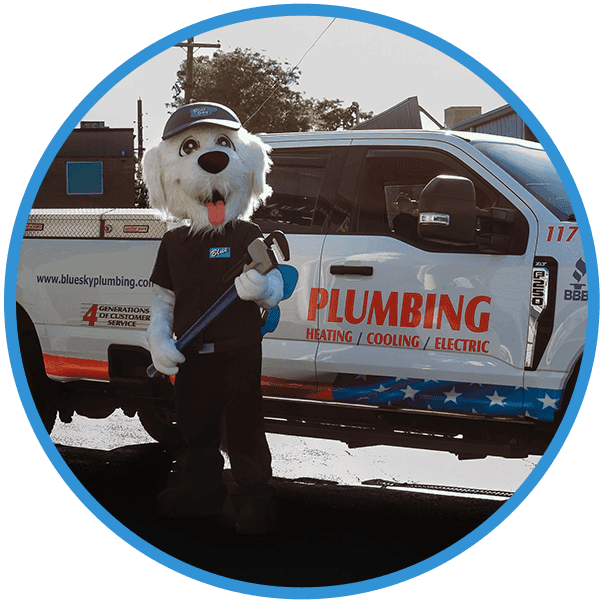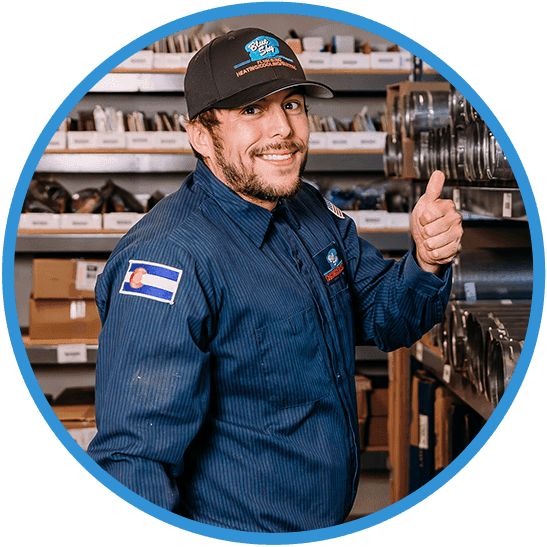 "From start to finish, my experience with them was outstanding."

I couldn't be happier with the service provided by Alex and Jay from Blue Sky Plumbing, Heating, Cooling, and Electrical. They exemplify what exceptional customer service and expertise should look like.

- David C.

"Highly recommend Blue Sky!"

Blue Sky expedited our service call due to the nature of our problem. Kris Johnson came the next day, and was on time, thorough, professional, and kind. He patiently figured out what we needed to fix our electrical problem.

- Jaika

"Thank you to Gareth, Chris, and Aaron for your work!"

They did a great job and I appreciate their work. Overall, I've had a great experience with Blue Sky and would recommend them if you're in need of plumbing or electrical work.

- Connor P.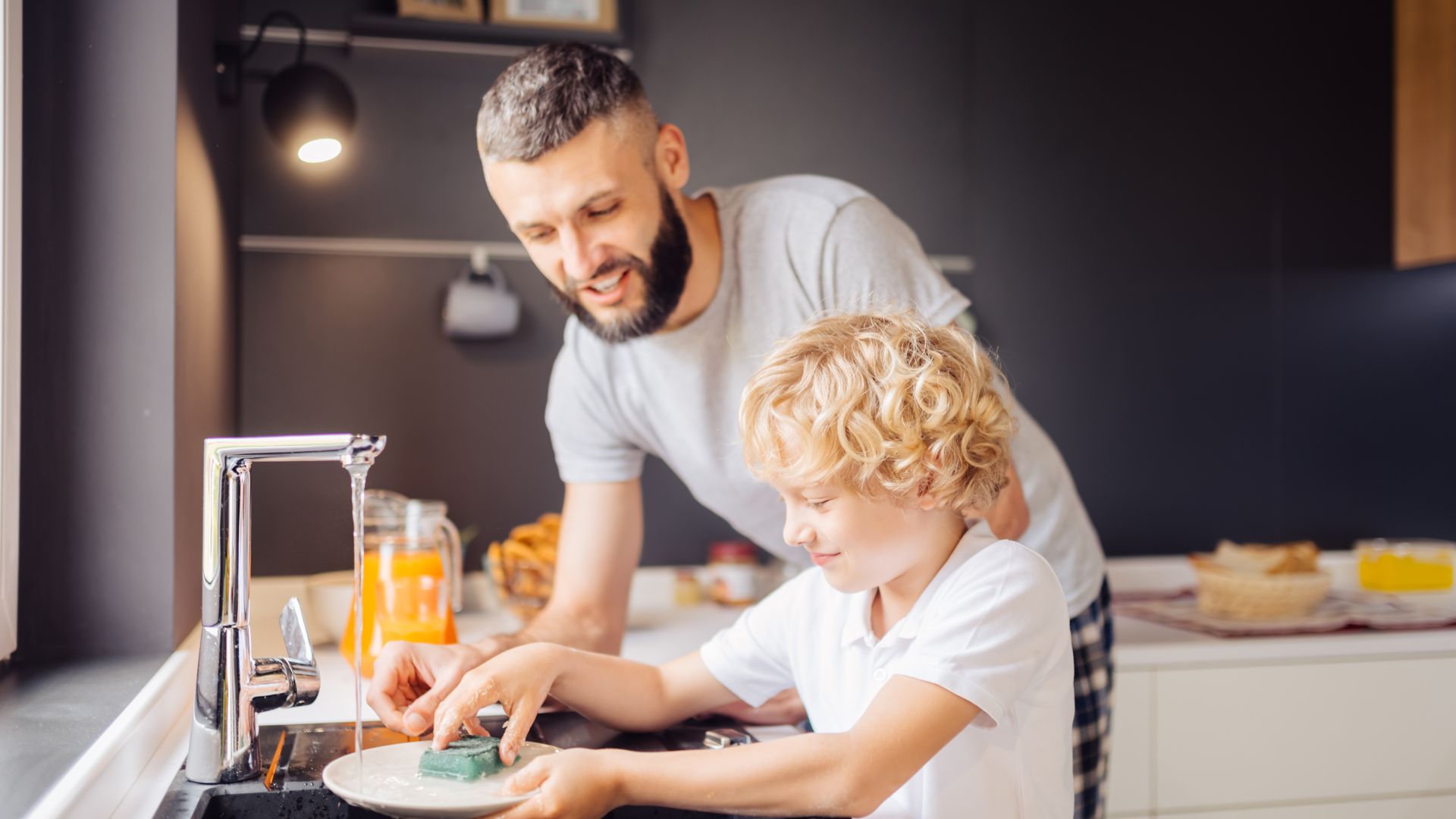 4.8 Stars | 1900+ Google Reviews

BBB A+ Rating

360+ Recommendations