Common AC Problems & How to Fix Them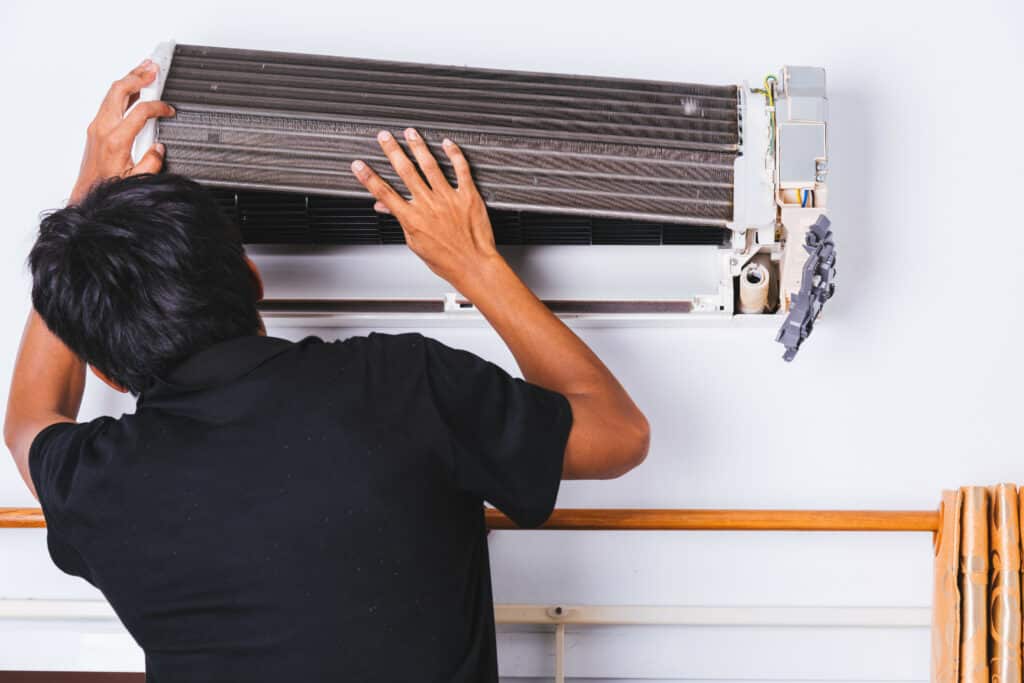 An AC going out or failing to cool your home properly is never convenient and could even pose an emergency. If your home is too hot, you need Denver AC services you can depend on.
Blue Sky Plumbing, Heating, Cooling, and Electric is here to help with all of your repair, maintenance, or new installation needs. We serve the metro Denver area, Wheat Ridge, and beyond to restore the comfort of your home. 
If you're not sure if you need Denver AC repair, here's what to know and potential fixes to alleviate the stress.
1) AC Runs Too Much
When the weather is hot, it's not unusual to hear your AC running off and on more than usual. But it should still turn off periodically, otherwise, it would be a problem with your filter, thermostat, or electrical components. If your energy bills are significantly higher than the previous year, you need AC service in Denver.
Before you call, you can try to change the filter on your own. It could be the reason your AC won't stop running, and it's an easy fix. Otherwise, call the team at Blue Sky to assess whether or not you need a new compressor or to check your components. 
2) AC Turns on Sporadically
It's also possible to have an AC that just turns on periodically and on a whim. This is called short cycling and means your unit isn't completing a full cooling cycle. If you let it go too long, you could end up damaging your compressor, leading to an unnecessarily expensive repair. 
Short cycling could also be caused by dirty filters that you can check yourself. Otherwise, there is a long list of reasons you need Wheat Ridge AC service. Beyond a clogged filter, you could have low refrigerant from a leak, a mis-calibrated thermostat, or frozen evaporator coils. 
3) AC Freezing
If you're noticing ice or water around your AC, you could have frozen coils that need to be addressed. Your system is probably working nonstop to cool your home and raise your energy bill. It's worth letting it defrost and seeing if it helps, but chances are high that it will ice again and continue an inefficient cycle. Call the team at Blue Sky for AC repair or maintenance to get your home feeling cool again. 
4) AC Isn't Turning On at All
An intermittently working AC is one thing, but if it doesn't turn on at all, it can quickly cause dread and panic on a hot summer day. Try turning off your unit and thermostat and booting everything back up, but you probably have a faulty thermostat or loose wiring. It's also worth checking your circuit breakers to make sure they haven't tripped. 
After checking a few things, do not handle any writing yourself. You could expose yourself to danger, damage your AC, or breach your manufacturer's warranty. 
5) Refrigerant Leaks
A refrigerant leak isn't always obvious, as it happens inside your coolant line. They can also happen slowly until you suddenly realize your home isn't cooling the way it used to. If you see telltale colored stains around your unit or a pool of water, you may have an issue. Thick condensation is also a red flag for a refrigerant leak. 
Turn off your unit and call the skilled technicians at Blue Sky as soon as possible, or you could damage your compressor. Beyond a repair, you also need regular AC maintenance in Denver to fix and prevent leaks before they spiral. 
6) Condensate Drain Problems
Homeowners don't always realize that foul, smelly odors are often coming from their vents. Moldy odors are a telltale sign of a condensate drain problem or AC issue. When your drip pan overflows, it could also keep your AC from working properly and cause standing water. Or you may find your AC isn't turning on.
If you're able to access the drain, it's possible to try and blow air through the line or flush clean water through it to attempt to clear it. But it's best to leave it up to a professional to prevent any further damage and properly diagnose the problem. 
7) Your AC Is Tripping the Circuit Breaker
If you're frustrated by how often your circuit breaker is tripping, you probably have insufficient AC installation or cheap materials. The wiring of your breaker could also be the issue. Unfortunately, anything with electricity and wiring isn't an issue you can address on your own. You may need a certified AC Denver technician to deal with the problem. 
8) AC Sensor Problems
When your AC sensors are acting up, you're probably experiencing uneven indoor temperatures or adjusting the settings of your thermostat. The sensors quickly create chaos and make it difficult to cool everything down. 
If you're comfortable with it, you could  turn off the circuit breaker for the AC, remove the AC cover, and look for the sensor to see if it's bent or touching your coils. However, it's not recommended to fix it unless you have experience with the problem. You could break the sensor, make the problem worse, or breach your AC's warranty. Call for Denver AC repair today to resolve the issue.
Call Blue Sky Home Services Today
If you can't cool down your home efficiently and are struggling through the summer, we can help! We offer AC services in Denver, Wheat Ridge, and the metro area to restore the comfort of your home. Whether you need a simple fix or an emergency AC repair, we're here 24-hours a day, 7-days a week. Call the Denver AC experts at Blue Sky Plumbing and Cooling!
(303) 625-6225