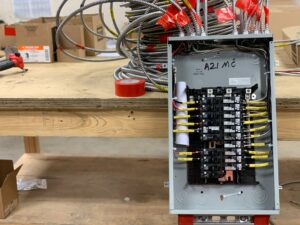 Your electric panel is a workhorse! After all, it takes all the electricity that comes into your house and distributes it so that you have power wherever you need it! Without it, you couldn't use lights, appliances, entertainment systems, and more.
Because you rely on your electrical panel every day and because it handles such a large amount of electricity, you want to make certain you have one you can rely on. After all, if the electrical panel stops working or overheats, you could end up with a serious situation on your hands.
Electrical Panel Recall
One company has recently recalled 1.4 million or more of their electrical panels. They have a flaw that causes them to overheat, causing serious burns and even fires in the buildings where they are installed.
These panels by Schneider Electric USA are in all sorts of structures, from homes to businesses and even to some recreational vehicles. Residences, warehouses, restaurants, and more are affected by this recall.
The recalled panels were sold in hardware stores across the country between February 2020 and January 2022, with date codes between 200561 and 220233. A few circuit breaker boxes made in December 2019 and March 2022 are also included in the recall.
Schneider is attempting to contact all known purchasers of these recalled products, though there are many people whose contact information they do not have access to. Whenever possible, Schneider will arrange to have the panels tested to determine whether repairs need to happen or a replacement is required.
Get a Denver Electrical Inspection Today!
If you're concerned about your electrical panel or you're wondering whether it's included in this recall, all us at Blue Sky Plumbing and Heating to schedule a Denver electrical inspection today.
One of our skilled electrical inspectors will be out to your address soon. We'll take a look at your electric panel, as well as the rest of the electrical system in your home. After running a comprehensive set of tests, we'll let you know if there's any part of the system you need to be concerned about, including your electric panel.
If we find any problems with your electric panel or anywhere else, we'll let you know and arrange to fix them ASAP. Our team won't leave you to deal with an electrical issue that could be dangerous! We'll fix it fast and get you back to normal soon!
(303) 625-6225
Book Online
The post 1.4 Million Electrical Panels Recalled Across America! appeared first on Blue Sky Plumbing.