What to Expect When You Get an Electrical Safety Inspection
You rely on your electrical system every day. After all, you need it to help you get the power you utilize for all sorts of things, from turning on the lights to powering your entertainment systems.
Simple electrical problems can become major issues fast. Sometimes, parts of your home simply stop working, like that one outlet you can't use. Other times, you can end up with house fires, burns, and more!
One easy way to avoid these problems is to have your electrical system assessed regularly. Here's what you should know about getting an electrical safety inspection for your property.
When to Call for an Electrical Safety Inspection
You can call us at Blue Sky Plumbing and Heating for an electrical safety inspection at any time. We recommend you definitely call when:
You're adding a major electrical appliance, or upgrading to a modern version that might need more power
You're doing home renovations or adding onto your home
Your home hits the 40 year mark
You're buying a new home
Types of Electrical Safety Inspections
There are several types of electrical safety inspections that we can do. Most people who call us want a service inspection. This involves looking at your electric panel and testing it to make sure it is handling and distributing electricity properly.
We can also do an electrical rough in inspection. This most commonly happens when a new electrical system is being installed or when you are adding onto your home. Our inspector will look at your wires, conduits, connections and more to ensure that everything has been installed properly.
Finally, we can also perform a final inspection. This is key when new parts of your electrical system are being installed. It tests the final installation to be sure that it is working properly and safely.
What Does a Standard Electrical Safety Inspection Include?
Unless you need an electrical rough in inspection or a final inspection, your electrical inspection includes: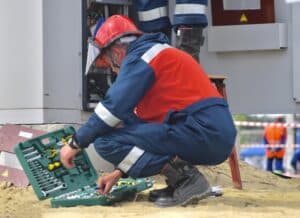 Testing all switches and outlets
Inspection and testing of your electrical panel
Testing grounding throughout your electrical system
Examining the system for potential electrocution and shock hazards
Testing GFCI outlets and systems
Checking for surge protection throughout your system
Testing any wired-in smoke detectors and carbon monoxide detectors
If we find any problems, we'll notify you and work with you to fix them ASAP. We'll never leave you in a dangerous situation with your electrical system. Call us at Blue Sky Plumbing and Heating today and we'll take care of your electrical needs.
(303) 625-6225
Book Online
The post What to Expect When You Get an Electrical Safety Inspection appeared first on Blue Sky Plumbing.