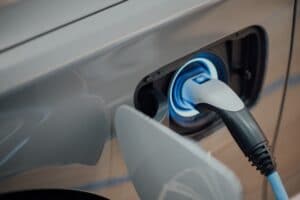 Have you considered purchasing an electric car? Would you like to have an electric car but you're not sure how you would get it charged or what it would take to keep it running?
At Blue Sky Plumbing, Heating, Cooling & Electric, we can install a home charging station for you. No matter what kind of EV home charger you need, we'll get it working for you fast. That way, you can always charge your car at home and you won't have to worry about it or wonder whether there will be a place to get the charge you need.
It's Convenient
Electric car charging at home is so much more convenient than charging your car any other way. If you have a significant commute to work, you may need to charge your car every day if you want to go to the office, and you may need a full charge so you can get all the way there and all the way back.
No one wants to spend time after work traveling to an electric car charger, paying to charge there, and then spend an hour or more charging their car! It's just not worthwhile. If you have a home charging station, though, you can just charge your car overnight, every night. This makes it so much easier to get the power you need!
It's Cost-Effective
Investing in electric car charger installation in your home costs less, in the long run, than charging somewhere else all the time. Depending on the type of charger you install, you'll spend $300 to $2000 on the charger itself. Then, you'll also pay for installation. Prices on this vary even more because it depends on the type of power you already have available in your house, the age of your home's wiring, and more.
Even with these up-front costs, though, investing in EV charger installation at home will pay off over time. Charging stations can represent a significant investment, especially when you add up every charge you will need for the life of your car. Electric car charging at home, on the other hand, costs roughly the same as running an air conditioner all day. Over time, those savings add up!
It's Safer
As long as your EV home charger is installed by professionals, it's completely safe to charge your car at home. You don't need to worry about an increased risk of fire or other potential problems, because our electricians will make sure your electric car charger installation is completely safe. 
Charging your car in public, on the other hand, can be more dangerous. It may put your car at risk from all sorts of outdoor elements, like hail, wind, rain, and more. Depending on where you are and how long you have to wait outside or around your car, charging outdoors could be hazardous for you, too. 
Finally, you never know how well charging stations get maintained unless you're doing the job yourself. There may be something wrong with the charger that causes damage to your car or that even causes you to get a shock. While this is rare, it's a danger you need to factor into your decision about installing a home charging station.
Get an EV Charger Installed in Denver Today From Blue Sky Plumbing, Heating, Cooling & Electric
If you want an EV home charger, contact us at Blue Sky Plumbing, Heating, Cooling & Electric today. We'll get your EV charger installation completed quickly so you can proceed with your electric car charging at home. There's a reason so many electric car owners prefer to have their own charging stations: it makes life easier, costs less, and increases your overall safety. Call us to get yours today!
(303) 625-6225
Book Online
The post The Benefits of Having an Electrical Car Charging Station in Your Home appeared first on Blue Sky Plumbing.