Drain Cleaning in Aurora, CO
At Blue Sky Plumbing & Heating, we offer a complete line of drain cleaning services in Aurora. No matter what drain you need to have cleaned, how big the clog is, or how hard it is to access it, we have your back.
Call us now for expert drain cleaning in Aurora, CO. We'll work with you to make sure you have full use of your plumbing again as soon as possible. Our team will stay on the job until your clog is gone and your drain is completely clear.
Signs You Need Drain Cleaning in Aurora, CO
Not sure if it's time to call for an Aurora drain cleaning? While you can always feel free to reach out to us and ask, we definitely recommend calling if you're noticing any of the following signs. These indicate a significant clog and one that is likely to not budge without the help of a plumbing professional.
Contact us ASAP about drain cleaning in Aurora, CO if:
Your drains make bubbling or gurgling sounds. This may only happen when you put a lot of water down the drain at once, like when you flush a toilet, or it may happen every time you use a drain.
You have stubborn clogs. If you feel like you are constantly reopening the same drain or drains, the clog is likely a significant one. We'll find it and remove it all at once, so you won't have to deal with it again.
You have clogs in multiple drains at once. If you feel like your whole house has suddenly clogged up, give us a call right away. We'll find the source of all of your clogs, then get rid of it for you as soon as possible.
You smell sewage in your home. Even if there's not actually any sewage in your house, you might smell it if you have a bad clog. That's because it's not only water that is supposed to pass through your pipes, but the gases that cause these odors, as well. If you're smelling them, they aren't able to get down the drain.
How We Do Drain Cleaning in Aurora
When you call us for drain cleaning services in Aurora, we'll get to you fast. One of our experienced plumbers will be at your house as quickly as possible because we know that you need your drains to work if you're going to live well in your home.
We'll start by locating your clog. Whether it's a small clog in a sink or a bathroom or a large one somewhere in your main drain system or even your sewer, we'll make sure we know where it is before we start working.
Our team will determine the best way to complete your Aurora drain cleaning, then get right to work. Before you know it, your drains will be clear and everything will be back to normal.
Call us today or whenever you need a drain cleaning in Aurora, CO.
Our FAQ
Have questions? We are here to help. Still have questions or can't find the answer you need? Give us a call at 303-625-6225 today!
Can I Schedule My Appointment Online?

Yes! Blue Sky offers a convenient calendar scheduler directly on our website so you can pick the best date and time for your plumbing, electrical, heating or AC appointment! Start scheduling here!

Does Blue Sky offer Financing Options?

Yes, we do! We are proud to offer Greensky! Apply directly on our website!

What is the Blue Sky Guarantee?

Should you be dissatisfied with our work anytime during the first year following an installation project or service repair, we will return and re-do the original project to your satisfaction – all at no additional cost.

Does Blue Sky offer Emergency Services or Weekend Services?

Yes! We offer 24/7 emergency services for all of your plumbing, heating, or air conditioning emergencies! Call us day or night!

Why is my drain clogged? I'm so careful!

We believe you when you tell us that you are so careful about putting grease down your drains. Unfortunately, most people end up putting it down accidentally no matter how hard they try to do the opposite. When you rinse plates, bowls, pots, and pans in your sink, they often have a thin layer of grease on them. This gets rinsed down the drain with the rest of the debris from your plate. When this grease contacts a cold pipe downstream from the kitchen sink, it solidifies and attaches to the pipe wall. Over the years, even the smallest amounts of grease can build up and cause clogs. Don't worry, though! Your Blue Sky plumber will get that clog out fast!

What kind of sink should I get?

When it comes to getting a new sink, you have many options. These include:

Cast iron
Stainless steel
Corian
Fiberglass
Enameled steel
Acrylic
And more!

When our experts help you install a sink, we'll ask you what you plan to do with it. Will you wash dishes in it regularly? Is it likely you will drop dishes or silverware in it? Then, we'll ask you about your preferences. Do you want a large sink or a small one? Do you want a sink that sits on top of the counter or below the counter level? Once we know the answers to these questions, we'll work with you to find the perfect kind of sink for your home. In general, cast iron and stainless steel are more durable than some other types of sinks, but they may require special care.

What kind of water heater should I get?

Most of the time, the type of water heater you get will be determined by the type of connections you already have. Unless you are highly motivated to change the type of water heater that you have, the best choice is usually to get the same kind that was installed before. If you are in a place to change the type of water heater that you have, gas is often the better option. It is cheaper and can heat larger quantities of water faster. However, gas water heaters are usually larger than electric ones and you cannot store flammable liquids nearby.

Does Blue Sky Offer Commercial Plumbing Services?

Absolutely. No matter if you are a homeowner or a business owner, we've got your plumbing in Denver covered! We offer full commercial plumbing services for old or new buildings. Visit our Commercial Plumbing page to learn more about our plumbing services for businesses!

What is hydro jetting?

Hydro jetting offers a way to clean your drains without digging up your yard or pulling your home apart to access clogged pipes. Instead, we use a tool that sprays highly-pressurized water into your pipes. We control the pressure of the water and where it sprays, so we can remove your clog and clean your entire pipe. A hydrojetting tool has one nozzle that sprays forward and 6-8 that sprays backward. On the first pass, the reverse-facing jets propel the nozzle forward while the front one breaks up clogs. When we pull the nozzle back through the pipe, the reverse jets scour the edges of the pipe until they look like new. If your plumber thinks that hydrojetting is a good option for you, we'll let you know and get the job done fast.

What is the best kind of pipe for my home?

Most of the time, we suggest plastic or PEX/PVC piping for your home. This material lasts for a long time because it doesn't rust and is less likely to crack or break than some other types of pipe. Unless you are in a very specific situation, which our plumbers will discover, we highly recommend this type of piping for your home. Check Out What Your Neighbors Are Saying!
4.8 Stars | 1900+ Google Reviews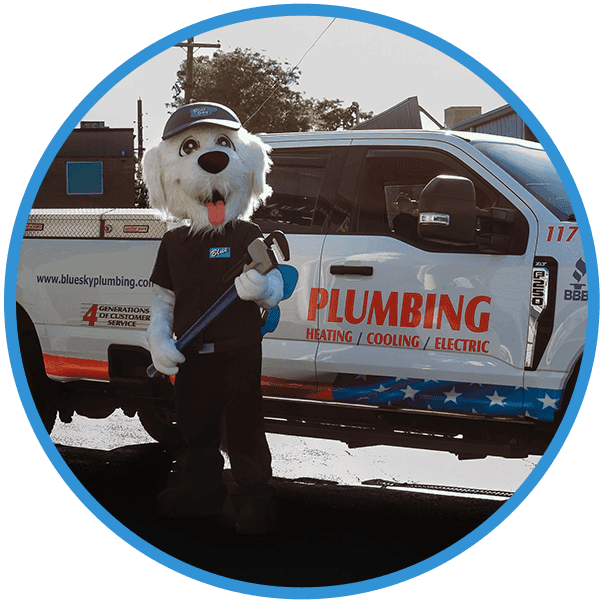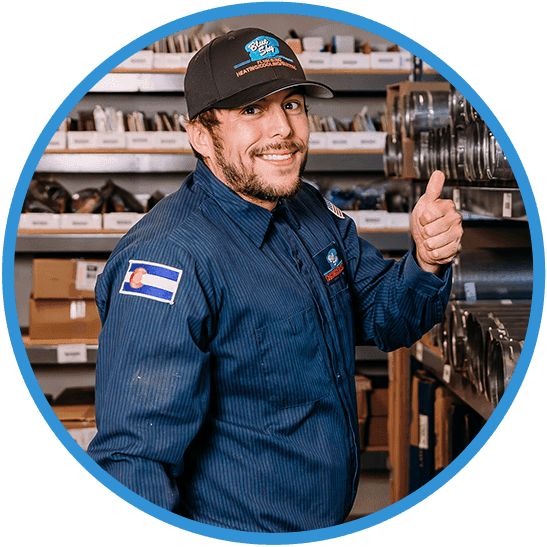 "Thank you Blue Sky!!!"

I highly recommend Blue Sky Plumbing for their professionalism and overall service from initial contact through completion and especially Eric for his superb service and professional, friendly attitude.

- Rhonda S.

"I really can't praise Blue Sky enough."

Daniel Downing arrived on time and did an excellent job. He completed the plumbing tasks expertly and gave me valuable advice on how to proceed with future projects. He thoroughly explained the work he did and how to maintain the systems he worked on.

- Greg M.

"This experience was the very best ever!"

Chris absolutely takes professionalism and friendliness to the top level of excellence. He took the time to explain to me exactly what needed to be done, and what wasn't needed to be done and answered all of my questions.

- Sarah K.

"He was outstanding."

Mario De La Cruz came today to service our hot water heating system here in Evergreen. We found him to be very pleasant, professional, and knowledgeable.

- Joyce N.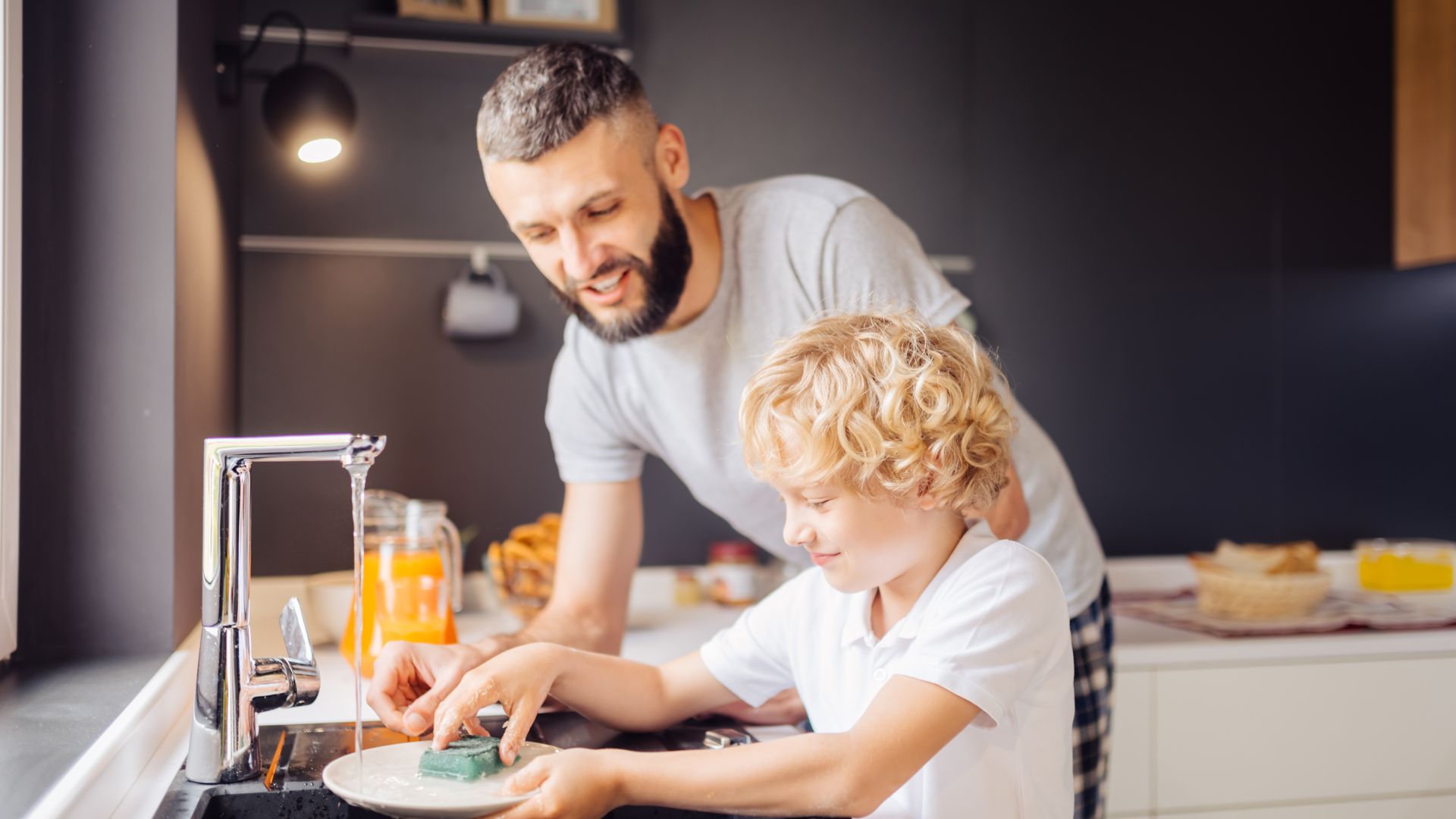 4.8 Stars | 1900+ Google Reviews

BBB A+ Rating

360+ Recommendations